Thursday, March 31, 2005
coniglio del coniglio del coniglio
'tis fun sucking air. Awful glad I wasn't married to slimeball M. Schiavo. Wonder how much of the $2,250,000 went into his pocket (and the shysters) vs. the zero that went into a MRI or PET scan of the gal he tortured to death. CT scans are rather crude. Mostly old tech and pretty good for observing fractures. Just X-rays more-or-less 3-D. If indeed she was cognizant even a bit, the thought of dying so miserably over such a protracted time ranks right up there with the worst the GRU ever did. Too many comments on too many blogs to continue these thoughts but the respect for the "appointed" black-robed ones has not been very high on this end for 19 years. Now it has fallen to zero. Supreme judicial prejudice. Failed ambulance chasers. Fuck them.

'nuff

* * * * * *
Time for good stuff. My little wolfen got to join Cookie and Rima as an outside dawg when the wet weather broke. Much sadness the first eve, no proper place to put her muddy paw in (my mouf' ;o). Small, but very loud heart-breaking wolf howls; didn't give in. Almost did many times. Nope. Abby and Rima are holy terrors now. Rima has reverted to puppyhood and Abby is teaching her to see around corners. I'm dead meat. Cookie just watches but occasionally she comes out from under cover and the big paw plus the growl resets the rules! I love it!

My thoughts roam all over the place. It has been a very long time since I've lived with another and my visits to the township have been mostly just monthly for supplies. The net was adopted as soon as it was available even if downloads typically were around 300 baud. Used to "surf" the internet via ham radio through a fella in Colorado that put up a 2400 baud link on 20 meters. Kinda busy as you might imagine.

One of the thoughts involves friends. Mostly they are self-selecting. I got a nasty run a bunch of years ago when a few that I had sponsored for years had selected me as a nice, ripe, patsy. Expensive. Not fun. Those useless folk finished the job of me becoming a non-sponsor of folk. I do NOT recommend my reaction. Hermit life is quite acceptable but if one lives it for a number of years, it becomes so preferable that contact with other critters that actually speak English causes unpleasent reactions. Three years is probably the maximum to go hermit. It's tough re-joining. Robinson Crusoe syndrome. Extremely self-critical. Also, very much wanting to re-join. It's also not fun getting out of many years of very black depression. So many good years, thought they would last forever. Shit hits the fan, then 3 friends commit suicide, then, my horror hit AFTER the ultimate shits, the cocaine-powered wetback slime crippled me forever, took me out for a decade. After my dear friend Nina (my former wife that has the legal right to pull my feeding tube) found a way to improve my broken body, we got un-married. Every now and then one or the other of us asks the other to get married. Fortunately we remember. NFW!
I love her dearly. Been trying to marry her off for years since she's got the brains to not have me!. Stories, but she's got the blog addy (and the pass words for this and all my sites plus ALL my PIN codes! ;o). She's been doin' the same but a bit different; find "loving wife" stuff.
No chance with her and I. Wasn't really back in 1986 if I'd just quit. Looong story but her and I were dead meat as mates two months after we married. We were friends and lovers before the fucking mexicans tore me up. She couldn't know the Los Alamos project at all (sucks, especially since she'd been vetted quite well) and I'd finished my share. Damn, that job was fun (except for the mil batshit. ...and the suicides. Can't blame them; poor sensitive souls..)
I swore off mil jobs in 1973. Good tech, bad usage by serious shits. Good tech, good use by good shits, Class 1, highly approved. '73 stuff, not good at all. There are a few folk that might read this that actually understand.
'nuff for the moment.
* * * * * *

Tuesday, March 29, 2005
toejam and teeth
Lord have mercy, started raining Friday and dumped nearly 8" by Sunday evening. Kinda hard to put new 20 pound pup out when needed so you can imagine I've had an amusing time. I thought she was being ever-so-good going out, doin' her biz, then tracking in gallons of mud. Seems she was holding back a bit. Found a minor mountain in the darkest corner of the library yesterday morning! But could you fuss much at this face?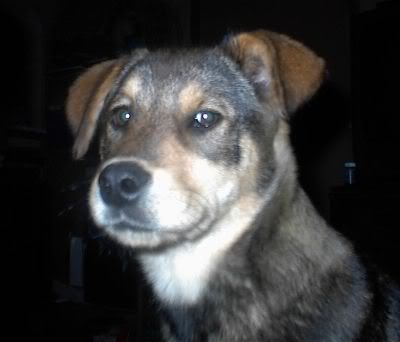 Hard to get this type of photo 'cause puppies don't pose. I laid on my back with her on my chest and after I got my beard untangled from her teeth, snapped this flash with a black background. Took a second I liked better but the flash washed out a bit.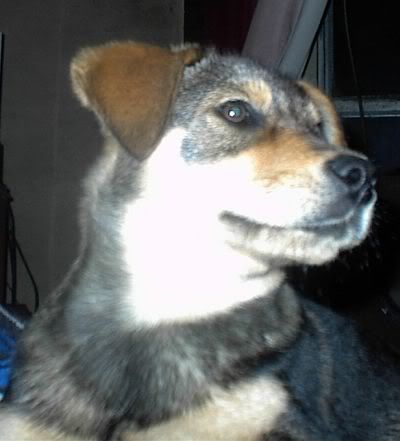 She climbs fences like a monkey, digs like a badger, and chews up everything within reach. Just barely saved my carboy brush this morning! Garden hoses, coax cables, power cords, shoes (especially the ones with that neat Velcro stuff!), clothes (especially dirty socks), magazines, towels. **sigh** Yep, she's 100% purebred pup! ;o) Oh, almost forgot; she found my Canon inkjet refill supplies. Blue is a nice color. It's all over a rug, a piece of furniture, and it looks like I voted in Iraq. Five times. Arrrggghhh!
* * * * * *
Aaron's Rantblog is back and if you need a chuckle, read
Battle of the Blogger Babes - Reporting from the Front Row
.
* * * * * *
Thursday, March 24, 2005
there's a fungus amongus
While I was 'enjoying' the few days of the ungood food and had to stay near the facilities, I read
Victor Suvorov
's book, "Spetsnaz". I'm not going to give a critique of this book other than to say that there were a couple of chapters I found interesting. However, it did get me reading a bit more on the sources of terrorism and the 'why fors'. J. R. Nyquist in a column in financialsense.com wrote
Grey Terror
which is the strongest topic in Suvorov's book (in my estimation).
"It is generally believed that Mohammed Atta was the leader of the 9/11 strikes against the World Trade Center and the Pentagon. Atta was an Egyptian, a student of architecture in Cairo and Hamburg, born on Sept. 1, 1968. His studies continued to the end of the 1990s. We are told that he was seriously religious, though he was seen drinking alcohol and playing video games at a sports bar the week before 9/11.

In May 2003, Capt. Vladimir Hucin, formerly with Czech intelligence (BIS), made a curious statement in front of Petr Cibulka, the head of the Right Bloc (Pravy Blok) in response to a question about Atta: "I had information that Mohammed Atta was trained in the Zastavka terrorist training camp in 1988, by Czechoslovak Communists and STB."

Cibulka was not surprised by Hucin's claim regarding Atta. According to Cibulka, al Qaeda is the child of the Communist Bloc and its rogue state allies. "[Al Qaeda] is supplied and trained by Iraq," said Cibulka in a 2003 interview. "But the real brains behind this global terrorist campaign against the free world … is in fact the Russian GRU. Moscow fights against the United States with a hidden hand."

There is no question that the FBI and the CIA, in their infinite wisdom, would dismiss Cibulka's statement and the allegations of Capt. Hucin. The reasoning of the FBI and CIA goes something like this: People who have fought communism their whole lives are deeply committed to their views, even when communism has collapsed. Those who hate communism do not stop hating it, and their judgment is distorted by this hatred. Therefore, statements connecting today's terrorism with "International Communism" are not to be taken seriously.

Perhaps the prevailing wisdom of the FBI and CIA deserves the honored place it now enjoys. On the other hand, an admission that anti-Communism can become an obsession does not automatically discredit everything anti-Communists have to say. Soviet Communism invented modern terrorism. The Communists trained Arafat, Mandela, Carlos the Jackal and others. To what end was this training?

There is an old book by a GRU defector who wrote under the pen name Viktor Suvorov. The book's title is Spetsnaz: The Inside Story of the Soviet Special Forces. Chapter 15 in this book is about Spetsnaz's role at the outset of World War III. It makes very interesting reading.

Russian Spetsnaz commandos are trained as paratroopers, explosives experts, terrorists and assassins. According to Suvorov, World War III will not begin with conventional military operations, or even with massed nuclear missile strikes. On page 196 he describes "a series of large and small [terrorist] operations the purpose of which is, before actual military operations begin, to weaken the enemy's morale, create an atmosphere of suspicion, fear and uncertainty, and divert attention of the enemy's armies and police forces to a huge number of different targets…." According to Suvorov: "The principle method employed at this stage is 'grey terror.'" This is a kind of terror that is carried out "in the name of already existing extremist groups not connected in any way with the Soviet Union, or in the name of fictitious organizations." (snip)
Interesting, isn't it? The rest of the column is worth reading. A lot of Surovov's book was on recruiting folk in enemy nations to bring down their system from within and it reads as if he was part of the recruitment of the leftist movements (bowel movements) in this country. It's possible he was part of it as he was a GRU Intelligence Officer and having been born in 1947, makes this just about right. From his usage of a certain type of propaganda, indeed, close to verbatum, one gets the impression that
Chapter VI
of Adolf Hitler's "Mein Kampf" is a primary tool of communism. I certainly saw a hell of a lot of Herr Hitler's thoughts used in the 2004 elections. It's a wonderful tool, keep 'em stupid, make mushrooms of them. Start young and train them right. Keep them in the dark and feed them horseshit. You wind up with devoted followers of foolishness like the Democratic and Republican parties which have adopted Herr Hitler's:
"The art of propaganda lies in understanding the emotional ideas of the great masses and finding, through a psychologically correct form, the way to the attention and thence to the heart of the broad masses. The fact that our bright boys do not understand this merely shows how mentally lazy and conceited they are.

Once we understand how necessary it is for propaganda to be adjusted to the broad mass, the following rule results:
It is a mistake to make propaganda many-sided, like scientific instruction, for instance.

The receptivity of the great masses is very limited, their intelligence is small, but their power of forgetting is enormous. In consequence of these facts, all effective propaganda must be limited to a very few points and must harp on these in slogans until the last member of the public understands what you want him to understand by your slogan. As soon as you sacrifice this slogan and try to be many-sided, the effect will piddle away, for the crowd can neither digest nor retain the material offered. In this way the result is weakened and in the end entirely cancelled out."
Thomas Jefferson must be at about 10,000 RPM by now.
To continue after interrupting myself (a way of life!),
Mosnews
has this article,
Russia Helped Al-Qaeda, Arming Iran — Intelligence Reports
. Delightful little missive. Go read it and make your own judgements. I'm gonna go wake up the new puppy and teach her to talk!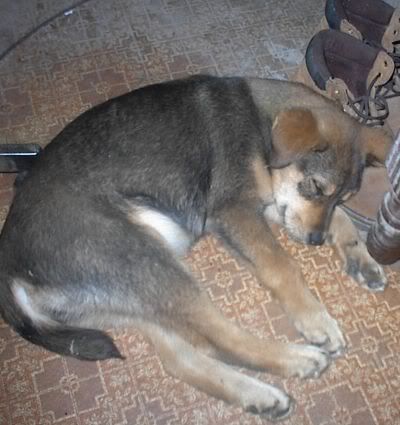 * * * * * *
peckerheads
" We can't take any steps to save the forests, after all, they're in a permanently vegetative state."
- hijacked from shibumi at the Free Republic
Rand Simberg
has an excellent blog entry about the miserable Schiavo case today. He's also linked an article from Peggy Noonan that's worth a read (I'm a PN fan most of the time). After reading the CodeBlueBlog linked yesterday, one question keeps sticking with me; will there be an autopsy and who will be doing it? Oh yeah, I'm quite sure the 'Right to Death' crowd are gonna kill her. Normally I listen to Neal Boortz in the morning. He won't shut up with his opinion that she should die. Days and daze of it so I've switched stations. Found a station locally that broadcasts the
John Boy and Billy "Big Show"
. The music is good and, well, it's not wise to have a cuppa near the snout during the comedy sketches! Redneck humor at it's best!
There was one other item that has bothered me as well and that is just exactly when did Michael Schiavo decide Terri should die. The timeline below is most bothersome.
WHAT DID MICHAEL DO?

Aug 1992 - Terri awarded $250,000 in malpractice 'OUT-OF-COURT' settlement.


Nov 1992 - Terri awarded $1.4 million in malpractice trial.


Nov 1992-Michael Schiavo awarded $600,000 in malpractice trial.


After the malpractice suit Michael took Terri home for approximately four months....


In 1993-Michael Schiavo orders no treatment for Terri's potentially fatal infection.


July 16,1993- Mary and Bob Schindlers' letter to Michael Schiavo

Letter to Michael from Bob and Mary Schindler


Nov 1993-Michael admits in deposition that he knew withholding treatment of infection could result in Terri's death.


Sept 1995- Schiavo orders Palm Gardens not to treat Terri for potentially fatal infection.

In 1997, with the help of pro-death attorney, George Felos, Michael Schiavo started his efforts to have Terri Schiavo's feeding tube removed....... Since then her feeding tube has been removed and put back in twice. Once on the orders of a judge. The second time on orders of Florida Governor Jeb bush........


" I believe in the vows that I took with my wife,
through sickness, in health, for richer or poorer. I
married my wife because I love her and I want to spend the
rest of my life with her. I'm going to do that."-Michael Schiavo


In Michael Schiavo's Nov 19, 1993 Deposition he admitted to having more than one intimate relationship with women other than his wife since 1990.........


At the time He ordered Terri not to be treated for an infection that could have ended Terri Schiavo life-he was already involved with his present day girlfriend who he moved in with in 1995.


I guess he didn't marry his wife Terri Schindler Schiavo because he loved her and wanted to spend the rest of his life with her. Since, of the 20 years Michael Schiavo has been married to Terri Schindler, he has spent the last 10 years living with the mother of his two children.


The last time the Terri's feeding tube was pulled (Oct 15 2003) In the statement Michael Schiavo released he said:

"That left me to carry out her wishes. It has been hard. In fact, it is the hardest thing I have ever done. In the end, I did what I believe Terri would have wanted me to do."
OK, let's see if I've got this right; husband screwing around on his wife prior to her incident, picked up $2.25 mil in '92, orders no treatment for potentially fatal infection a year later whilst screwing present-day love interest (might account for some of the medical issues noted in the CodeBlueBlog post), same order again in '95. Shacked-up with mother of present kids in '95. Damn, that dude has wanted her daid for a long, long time. I don't think I'd want a spouse that had so little respect for me to have my health and possible rehab back before the first infection to be able to murder what's left on "I did what I believe Terri would have wanted me to". Maybe the letter of the law was upheld but the spirit seems to be badly violated. Whyfo' didn't he relinquish her care to her parents, divorce her, and get on with his life? Take a moment and go read the
Letter to Michael from Bob and Mary Schindler
.
* * * * * *
added at 4:45 PM - My gal Ann has checked in with
Starved for justice
. Nailed the issue directly on the head.
Wednesday, March 23, 2005
mid-week musings
"The man who reads nothing at all is better educated than the man who reads nothing but newspapers."
-Thomas Jefferson
Methinks TJ would add the MSM to the list these days. Bet he would have had one hell of a blog!
* * * * * *
Poor Terri. It's interesting those that have been clamoring so loudly for her death tend to be liberal, non-Christian, and probably just want to smite the VRWC.
Steve H.
says it better than most anyone I've read and
Rachel Lucas
has been on a tear. She's lost her ladylike language!
One article I've read and recommend comes from a doctor who has analyzed over 10,000 CTs. Give the
CodeBlueBlog
a shot. Damned interesting and if the analysis is correct, this is murder one.
* * * * * *
How 'bout that Couey perv.. There's been some rather strong opinions posted and spoken on talk radio about his 'care and feeding'. Personally I think giving him room and board with al Zark would be too kind. He should be given to Mark Lunsford. Sometimes even the Iranians get it right even if they were a bit too gentle. From MSNBC: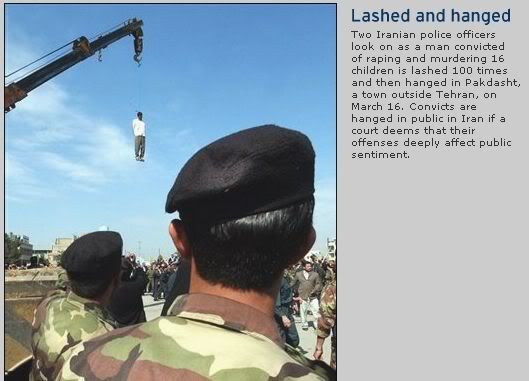 * * * * * *
From Merriam-Webster:
One entry found for coulter.
Main Entry: coul·ter
Pronunciation: 'kOl-t&r
Function: noun
Etymology: Middle English colter, from Old English culter & Old French coltre, both from Latin culter plowshare; akin to Greek skallein to hoe -- more at SHELL
: a cutting tool (as a knife or sharp disc) that is attached to the beam of a plow, makes a vertical cut in the surface, and permits clean separation and effective covering of the soil and materials being turned under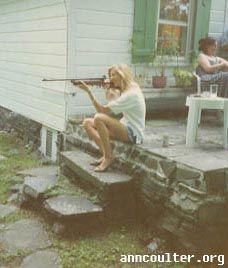 * * * * * *
Time to get back to playing catch-up. Had a 10 PM supper last Thursday, woke up at 3 AM Friday with violent stomach cramps, spent until yesterday morning going at both ends. Probably not a good idea to buy fish at that particular market anymore! Just had some time waiting for a big gluing job to set up (and the shop to air out), thought I'd sit for a bit. Got a suprise when going back down after lunch when I damn-near stepped on a 6 foot George by a parts bin. Been some mice in there recently, he'll feed well.
* * * * * *
Thursday, March 17, 2005
missed link
I failed to post a link in the previous post. Beat me. Whip me. Make me eat peeps! (talk dirty to me, I'll tell you everything! (Don't need the peeps. ~shudder~)
It's doubtful if the following is enjoyable. Idiocy and politics plus radical racism at it's worst.
Philly on trial: John Street's "brothers and sisters" and the law of unintended consequences
It's been almost three years since Mayor John Street uttered these words:

"Let me tell you: The brothers and sisters are running this city! Oh yes, running it! Don't let nobody fool you; we are in charge of the City of Brotherly Love. We are in charge!"

Since then, the politics and political correctness of those words -- uttered at a local NAACP meeting -- have been debated here in Philly with a passion that's rarely seen anywhere that's not within a two-block radius of Broad and Pattison. But now it's clear that those words hurt the city in a very tangible way, and it may be one of the stranger stories in the long strange trip of Philadelphia politics.

It seems that John Street's "brothers and sisters" comment may have triggered Philly's biggest corruption scandal in the last 25 years. Because Street's poorly thought-out outbust led directly to the hiring of treasurer Corey Kemp, the key figure in the selling of City Hall.

Here's the mindboggling story:

Another of [Corey] Kemp's former supervisors in Philadelphia, ex-city finance director Janice Davis, testified last month that she thought Kemp was talented, but not quite ready for such a big job.

Davis said Kemp lacked polish. During an important presentation to Philadelphia's city council, she said, Kemp came off sounding like "a North Philly thug."

At the time, Kemp was still a low-ranking deputy, and Davis said she all but ruled him out for a promotion.

A strange series of events in 2002 changed her mind.

During a speech to the NAACP, Mayor Street boasted that the city had a black mayor, a black police commissioner, a black fire commissioner and a black treasurer.

"The brothers and sisters are running the city!" Street said - a comment that made headlines.

Davis testified last month that the mayor's declaration was inaccurate in one respect: The treasurer's spot was then occupied on an interim basis by a white man.

To keep the mayor from being embarrassed, Davis said, she quickly drafted a letter appointing Kemp, who is black, as treasurer and had Street sign it.

Prosecutors said that as Kemp moved up in stature, he began to accept lavish gifts that included a trip to the Super Bowl in San Diego, a $10,000 deck for his house, pricey meals and a cash payment of $10,000.

This should keep them yapping on WIP and the Big Talker for a few days -- and we have to say that it should. After all, Philadelphians are increasingly showing they can overcome race in chosing a mayor, as shown by the white support that gave Street a landslide in 2003. Shouldn't we expect better when that mayor is choosing his key staff?

In 1999, Ed Rendell generated some controversy when he said that Philadelphia "needs a successful black mayor." He should have just said that Philadelphia "needs a successful mayor, period."

We still do.

Posted on February 23, 2005 10:15 PM
Comments

Any white Mayor would have been crucified and forced to resign for the 'brothers and sisters'remark. If Rizzo for instance, had told a all-white audience that 'we whites are now running everything', black and Hispanic Philadelphians would tar and feather him and run him out of town. There's no way in hell they'd vote for a racist. In Philly however, white voters overwhelmingly vote this racist back in. Either they're the dumbest people in the USA, or they're die-hard Democrats and don't care that power corrupts, and absolute power corrupts absolutly--which is exactly what Philly has become! A second-rate town that's run by a clique of Democratic Party mobsters in suits, Union goons who rob the taxpayers with exorbitant costs, black racists on par with the KKK, and old-fashioned mobsters and Mafia types that would make Al Capone cringe.
Posted by: Pat at March 1, 2005 09:25 PM
Isn't that wonderful? Way back when, 37 years ago, I had a part-time roommate that went to Drexel and another that attended Temple. Best not own a car as it would be stripped if it was parked on the street. First gen welfare society. Wonder how many years the NE libs will continue to back the "Great Society". It is impossible to re-teach several generations what we lived by 40-50 years ago. They have no reference and no desire to listen to some truly wonderful black folk, hell, not many could even understand the words of Sowell or Williams. Dr. Cosby is a ridiculed Uncle Tom if he even appears on the rap radar.
Lots of observations from this location in what was once most rural Florida. Close to 30 years worth and from a benign but opinionated source. I like people. I'm biased that way. However, having been burgled too many times, I don't talk before holes (triple shot) appear centered with uninvited 3 AM visitors. Just pulled the .38 snub out of rust storage 5 days ago, cleaned it, fits my poor vision just fine. First shot dead center at 25 feet. The following three were in the black. Don't have Dina(saur) and Tep to run interference with the "undocumented guest workers" (read: drug importation, home invasion specialists) anymore. Someday I must post a few of the notes. Right now I'm just recalling Claude Stringfellow, my first full-time employer outside of family at the ripe old-age of 16 and 3 of the delightful jobs he sent me on in the company van. ...actually 4 but
that
one needs special 'treatment'! Key words if you read this and want me to abuse the sanctity of cyberspace are "Catholic" and "unwed mothers" and "abbot". "Nurse" works as well.
It's really late and I haven't had my martini yet. Do everything I won't and I'll absolve you from all sin. You'll still go to Hell but I will need company!
Wednesday, March 16, 2005
bodymore has a neighbor
It seems all the cities run by folk raised in the wake of LBJ's "Great Society" seem to be hell-holes. God knows Detroit is a total disaster zone. Much of Chicago. All but a bit of DC. Do you know the name of the Eastern part of Palo Alto, California? ..been true for several decades. The widest river in the world? Used to be true but in-continental drift (liberal legislation) has merged places. Too many to even consider actually. When such is up and beyond 4
th
generation and the "teachers" have been "taught" by the previous generation of entitled ones, the only "learning" is rather pitiful. Greater than 70% born w/o a recognised father, for 2 generations I've personally tracked a few raised by a combination of "aunts" (pronounced 'awnt') and older drug dealers. The awnts were already 2
nt
and 3
rd
gen "Great Society" winners.
Mayor Declares City Violence A Crisis
Violent Weekend In Philadelphia
The following I am posting in full as the PDN seems to have figured out bugmenot.com. The link is from Free Republic and the comments are quite amusing (not posted, probably in the hundreds by now). Sometimes I'll go through the trouble of opening a new hotmail/yahoo/charliemanson.com freebie email account and go through all the time to get "qualified" to view a source, this wasn't worth it. Highlights are mine of course.
Mayor John Street: Too many people get gun-carry permits in city
Phildadelphia Daily News | Mar. 16, 2005 | MARK McDONALD

IF AND WHEN Mayor Street sits down with the governor and leaders in the General Assembly to discuss the "crisis" of gun violence in the city, Street may ask for a tough new law restricting concealed handguns.

Street said he's "concerned and frustrated" by the number of concealed gun permits that are being issued in the city and that he may decide by Monday to order a moratorium on new permits.

The mayor's flurry of words came on a day when he called in his top police commanders to consider how to cope with an ugly outbreak of bloody killings across the city.

At the same time, Street sent a letter to Gov. Rendell asking for help in dealing with state gun law "that handcuffs our ability to regulate the sale of guns in Philadelphia."

But Street was quick to defend Police Commissioner Sylvester Johnson, saying he "firmly and fully and completely and totally" supports Johnson.

Over the weekend, the city experienced 11 homicides, including a mother who killed two of her children and a 9-year old who was fatally shot in the chest as he sat in a mini-van. Speaking at a City Council budget hearing yesterday, Johnson said there have been 71 homicides in 74 days as of Monday. Asked what's happening, a somber Johnson said, "I don't know what's going on."

Though 80 percent of the murders involved handguns, that's about all that's clear.

Johnson said that 29 were the result of "arguments" generally about money and women, 19 have undetermined causes, seven were drug related, three were domestic, two were residential robberies and one each were sexual related and child abuse. But that left nine cases without a category.

Street said the pattern of killings is so varied that in most instances police would have great difficulty preventing the carnage. But he said he ordered Johnson to make a thorough review of the cases.

"We're never too proud to circle the wagons and go back to determine whether we can do things better," Street said. On Monday, the mayor will review whatever recommendations Johnson offers.

Street wants to put together a Philadelphia delegation including District Attorney Lynne Abraham to go to Harrisburg. And at the heart of Street's plans will be a frontal assault on Harrisburg, the keeper of all gun laws.

In his letter to Rendell, Street noted that Harrisburg has been quick to pass special legislation affecting the city, often against the city's wishes.

Gun regulation is another "special need," Street said. "We need tighter controls not only to protect our children and families but also to protect our law enforcement officers who are at risk every day," Street wrote.

Street, dear shit-fer-brains, show one murder done by a ACP holder.

He also told Rendell that the city has 28,000 active carry permits, compared to just 16,000 in New York City.

"We were compelled to issue more gun permits in Philadelphia in one year, 2003, than there are permits in the entire state of New Jersey," Street asserted.

"Compelled? Explain your use. My guess it was just your friends that knew that what you spoke in the next link was out of control.

If he had his way, Street said he would deal with handguns roughly the same way he wants to restrict second-hand cigarette smoke - a virtual ban.

handguns=second-hand smoke. Kewl! Bad boogie, can't have that uncontrolled stuff. Who, with a IQ greater than a snail-darter voted for your sorry ass?

Street said he sees few reasons for people to be packing heat in an urban setting. "For what? Why are they carrying? They're not hunters."

No, Jackass. They are the hunted. Your sorry city is a raging cesspool that no rational person cares to visit other than bright daylight hours. Take a tour sometimes you sorry waste of oxygen, view the results. One would assume you were moderately bright to become mayor but it's possible the word 'assume' reverted to the original meaning. I rather imagine the many gens of "Great Society" creatures elected your sorry ass.

Though the list of carry permits is peppered with the names of politicians and judges, Street said it's not for him. "I've always been very reluctant personally about carrying a weapon," Street said. "Part of it is that I'm fortunate to have the common sense to understand that if you have a gun you might use a gun."

20 bodyguards, armed to the teeth. I wouldn't bother carrying either.

The mayor is considering a 90-day moratorium on issuing carry permits or simply reducing the staff of 12 police officers who now handle the work to some smaller number, thereby slowing the process.

Dickhead, indicate any murder done by a carry-permit holder.

In October 1995, the General Assembly eliminated Philadelphia's authority to set its own standards for carry permits, placing the city on the same footing as the rest of the state.

When the police department handled the matter, Johnson said staff conducted a thorough background check on the individual who also was required to justify the carry request. By contrast, Johnson said Pennsylvania now has "the most lenient gun laws in the entire country. You can't do this in New York or the state of New Jersey."

Johnson said current law enables a gun buyer to distribute 10 guns to 10 people.

"If a crime occurs using one of those guns, the person who bought them has no responsibility. That has to change. He should be responsible for that gun at least to the point if its missing or stolen that he has to report it right away," Johnson said.

But is the gun violence washing over this city related in any way to the carry permits held by 28,000 Philadelphians? Street balked at the question, instead arguing that there are just too many handguns in the city.

I did a major database search on carry permit crimes, found zero. Found a fair number of excellent reasons to have one however. BTW, the permit requires a substantial background check here plus training if one has not had any. Pretty decent from where I'm sitting.

The issue, he said, is that in other states, "you may have a permit to have a gun in your home but that doesn't mean you are authorized to carry it as you walk all around the streets."

And how does he expect to convince a gun-loving legislature to carve out a special legal zone for the state's largest city?

"When you get enough tragedy, people will soften their position and they will understand the rationale for curbing the availability of these guns," Street said. "We are going to have to keep fighting this fight."
Philadelphia, Baltimore, Detroit. What can I say? Shit-hole cities all in major decline. All three (there are others, same story) were more or less excellent with class-one uni's until the mid-60's and now are turning into 3
rd
world turds. I doubt if anything now proposed will even start a proper repair and there is not much chance anyway. It would take longer than a politician's career (it wouldn't
have
one, cutting off the trillion-plus a year to the "underclass", deader than a Kennedy), it's got to run the course to collapse and reformation. Next week? Next century? No idea. I'm a watcher, not a participant. That was finished on 24 December, 1986.
This is kinda interesting for those still in the loop:
Crime Rate Plummets
Now, since my month-long cold (or whatever it was) has faded, I've three-quarters of a green jug and a bottle of olives and it's probably time to see if that old Donald Westlake (pen name: Richard Stark) book is worth a crap. First I've read that isn't humor and if you are anything like me, it is sometimes difficult to re-arrange thought patterns when an old favorite author changes modes.
I've got a few photos. Six actually. They need explaining. One needs to be explained to me. Tomorrow I'm off and out to acquire bits of stuff and it'll take me 2 days to assemble said. If it works right, I'll be a right-happy knucklehead and write altogether too much.
leaky wednesday
Sunday and Monday were magnificent, nights in the 50's days just breaking 80. Tuesday started colder than a (insert favorite) and didn't make it out of the 50's and looked like snow. Started raining last night, coming down in buckets today (weathercritter said possibly 5 inches) and the project I've spent the last couple of daze on crapped. Figured it probably would as I made it with 2 sub-standard parts and 2 adaptations. Should have gone into town and purchased the right parts, knew better, but I hate wrestling my way through all the traffic lights and drivers that got their licenses out of Cracker Jack boxes. Got 2 tales of horror from the last trip through the malfunction junctions but why bore you? You've undoubtably got better, especially if you live in Boston (mo below).
Isn't this just peachy-keen? I'm still amazed that the fearless camel humps haven't been dropping loads all over us in the past 4 years.
Gang Sweeps Result in 103 Arrests
March 15, 2005

As part of a nationwide crackdown, federal authorities Monday announced 103 arrests in six major cities of members of Mara Salvatrucha, an international gang born in Los Angeles and now involved in murder, narcotics trafficking and human smuggling.

The sweeps, conducted in recent weeks in an operation stretching from Hollywood to New York City and Miami by agents with the Department of Homeland Security, represent the first thrust of a campaign to rein in Mara Salvatrucha, also known as MS 13, officials said.

With new cells in 33 states and up to 50,000 members in the U.S. and Latin America, the gang had become a law enforcement priority in Washington, as well as in El Salvador, Honduras and Mexico.

Underscoring the gang's national reach, more than half of the arrests announced Monday came in the New York, Washington and Baltimore areas. In Los Angeles, authorities arrested 17 reputed MS 13 members, including a former soldier in the Salvadoran military described as a founding member of the gang's Hollywood branch.

"If you have a large-scale criminal organization operating in the United States, one that is reported to be smuggling, smuggling contraband, smuggling people, exploiting border vulnerabilities, you have to accept that as a homeland security risk," Michael J. Garcia, assistant Homeland Security secretary for Immigration and Customs Enforcement, said at a news conference in Washington. (snip)
Illegal Alien Influx May Compromise Security
Tuesday, March 15, 2005

DOUGLAS, Ariz. — The U.S.-Mexican border is nearly 2,000 miles long. America's determination to keep illegal aliens out is matched only by their desperation to get in.

"The reality is that hundreds of thousands of people from all over the world are successfully sneaking into the United States," said Dave Stoddard, a 27-year Border Patrol veteran.

In spite of the massive resources invested in border security, hundreds of thousands, maybe millions, of undocumented aliens make it into the United States every year. (snip)

In the 1970s, fewer than 100,000 workers entered the United States illegally each year. By 1990, that figure had doubled.

Since then, illegal immigration has exploded, with more than 1 million instances of foreigners being detained at the U.S. border last year.

Some Americans are even taking the law into their own hands, patrolling the borders they feel Washington has abandoned.

Experts say that possibly 12 million people live in the United States illegally — more people than live in Oregon, Oklahoma, Nebraska, Arkansas and Rhode Island combined.

The latest U.S. government estimate was that 7 million illegal immigrants lived in the country in Jan. 2000, more than five years ago.

What's most unsettling to many Americans is not the huge numbers of illegal aliens caught at the border, but the possibly millions more who are not caught.

"Can anybody explain to me why we shouldn't be paranoid about the southern border being porous?" asked Rep. Tom Tancredo (search), R-Colo.

Tancredo has obtained records showing that since the Sept. 11, 2001, terror attacks, agents from the U.S. Customs and Border Protection agency have stopped 132 nationals from countries considered a national security threat, including Syria, North Korea and Iran.

If those numbers are accurate, they may indicate that hundreds more from suspect nations made it across the border.

"The element that concerns me today is the terrorist element. Mainly, radical Muslims from the Middle East," Stoddard said. (snip)
Gang Arrests Had al-Qaida Link
A violent street gang whose members were arrested as part a nationwide sweep by Immigration and Customs officials on Monday had ties to al Qaida, U.S. intelligence officials say.

Officials said the Central American gang MS-13 is one of the largest and most violent street gangs in the United States, and the majority of its members are in the country illegally.

The gang has carried out beheadings and grenade attacks in Central America and is known to hack their enemies with machetes in cities along the East Coast in the United States.

Intelligence officials warned in January that al-Qaida members have been seen in El Salvador with MS-13 members, raising concerns the gang may be smuggling terrorists into the United States.

Homeland Security Deputy Secretary James Loy called MS-13 an emerging threat to the United States, referring to the gang and al-Qaida in the same breath in testimony to Congress. Besides al-Qaida, Loy said, "We are seeing the emergence of other threatening groups and gangs like MS-13 that will also be destabilizing influences." (snip)
Any ideas for a solution? I've got one, shared by a heck of a lot of others. Nope, won't post it. There has never been such a target-rich environment for terrorism than the US, and by the nature of our society, "Homeland Security" as published will not work. Methinks there is a bit more going on, all good.
* * * * * *
Last November I'd posted a comment and a link to an article from the AP (link now dead) about the $14.6 billion for 7.5 miles - $30,725 per inch hopelessly leaky Boston Big Dig. Haven't been back there since just before the "project" started, wonder if this potential deathtrap has improved driving in Boston? !! ;o) For those that have never driven there, it ranks as a tie with Saturday night in San Antonio, Texas as the #1 pucker factor city in the US!
Engineer 'unable' to vouch for Big Dig safety
Engineer: Big Dig a Big Danger
Massachusetts Official Investigating Big Dig Contractors Amid Safety Concerns
Romney Seeks to Fire 'Big Dig' Chief
Massachusetts Gov. Mitt Romney asked the state's highest court Tuesday if he has the power to fire the Massachusetts Turnpike Authority (MTA) chairman after an engineer who led an investigation into leaks at the $14.6 billion Big Dig project says he can no longer vouch for the safety of its tunnels.

"With the Big Dig there's been a pattern of cover-up and stonewalling that has left the public with little confidence that the project is being managed well or that the road and tunnel system are safe to travel," Romney said. (snip)
Seems a tad late doesn't it? 15 years of pork, corruption, and incompetence but what else is new in Teddytown.
* * * * * *
Tuesday, March 15, 2005
cant' drive 55
Been a bit under the weather for longer than expected. The last postings were when my normal not-too-wonderful outlook wasn't the best. Having big chunks bitten out of my 'sunset' hours and trying to do catch-up in between makes me especially cross. Mostly I won't post here or anywhere then. Grousing never fixes anything. Pretty-much gave it up in '91. There are just things that happen one is stuck with. Best thing to do is to go scratch a knucklehead!
My favorite old knucklehead is running out of teeth. Young knucklehead will need canid comanionship. First time in a long, long time it may be time to do that type of shopping but there's a minor problem; start from pup and pup will probably outlive me. No family and too soon to expect new swamp rez to tend although I feel very good about them. ***sigh*** Married-with-children seems to be a very poor probability for having a family. NOW ate ex-married-with-children. Furiously expensive. Total tab last compiled (~20 years ago) was $187,000 but 6 shyster outfits in 3 states fed well off of NOW's wonderful 'you go, gal!' I don't know how much she got but I doubt if it was much more than 10%. Can't grouse about that and not seeing my kids for 20 years either. I asked her on bended knee to marry me. Rather broke of
that
little quirk. My fault. The Who sings a few favorite songs. It's shameful that most gals are so nice.
* * * * * *
Have you read Yong Tang's interview with Washington Post Managing Editor Philip Bennett at the Red Chinese
People's Daily
?
Quite interesting, mostly juvenile, caused me to go read the last few months of Washington Post Editorials. Did you read the rather disturbing speach Kronkite made posted in James Tarantino's column today? Ouch. Uncle Walter was sending us to 3rd world hell years ago. Where the heck do these folk think the global works are supposed to
really
go? Directly to the shit-holes of Mexico, Africa, wonderful hell-holes run by the diseased members of
The Religion of Peace
? Go communistic? Uncle Walter is a full sign-in for the US to be run by no less than 100 3rd world bits of dictator slime known as the United Nations. I'm inserting today's Opinion Journal quote below:
OpinionJournal

Best of the Web Today - March 14, 2005
By JAMES TARANTO

Is There a Doxy in the House?

Over the weekend C-Span3 reaired an appearance by onetime CBS anchorman Walter Cronkite, who spoke at George Washington University on Sept. 22, 2002. Cronkite talked about the state of the news business, but he also weighed in on current events, 10 days after President Bush made the case at the U.N. for liberating Iraq. Even we were amazed at just how wrongheaded he was. Here are some highlights, transcribed with the help of TiVo:

*** QUOTE ***

Q: Do you think we still have some serious challenges ahead of us?

Cronkite: Oh, gracious. I think we have the most serious challenges ahead of us we have possibly seen in the entire 20th century--the century just passed, of course--and certainly the greatest for this century. A brand-new century dawned on us almost in the midst of this terrible Iraq crisis, this question of what we're going to do about the administration's plans to, for the first time, go into combat--begin the combat, begin a war--for defensive reasons.

This debate is going on, of course, here in your precincts in Washington, but being watched word for word around the world, because I think most of the world understands, as I hope most Americans do, that what we're talking about is launching what very well could be World War III. This whole idea of a quick and easy victory, I think most of the military people themselves would be inclined to doubt and have doubted, some of them openly. It's gonna be a much longer, more difficult--

With the entry now of Israel into the debate, with [Ariel] Sharon's announcement yesterday that Israel will defend itself if it's attacked during an Iraqi war--and that happened of course in the first war in that area, three or f--10 years ago now, whatever it is. This has aligned, officially aligned Israel with us in this campaign to have a war, or to win a war. Even if Sharon says it would be defensive on their part, this in the Arab propaganda world certainly puts us in the basket they've always claimed we were, of a mutual interest and our support of Israel regardless.

With that, it seems to me that we have almost certainly seen, to our much great discomfort, I should think, any possibility that the Arab nations are going to come in with us, in the early stages at any rate, of a war of this nature, and indeed might actually come in against us. So the story is a terrible one, and an awful crisis for us and for the world.

*** END QUOTE ***

In the event, of course, Iraq did not attack Israel, probably because it had vowed to defend itself, unlike in 1991, when at any rate Saddam Hussein failed in his effort to turn the Gulf War into a conflict between Jerusalem and the wider Arab world.

Even if all had gone according to Cronkite's pessimistic scenario, his fears of "World War III" were absurdly overwrought. Between 1948 and 1973 Israel alone fought several wars against the combined forces of the Arab world, all of which it won quickly. Does anyone really think that had it come to it, the U.S. and Israel wouldn't have been able to vanquish the Arabs easily?

The event ended with an audience question on the International Criminal Court. Cronkite's answer, which we quote in part, was staggeringly wide-ranging and incoherent:

*** QUOTE ***

Cronkite: Here we are again, the United States, saying, as we have now in several treaties recently and other activities--we are saying, with considerable chutzpah, I'd say, "Well, you can have your court if you want, but we [sic] not gonna belong to it." Well, what kind of progress can we make if the United States keep saying, "We are the exception to the rule," that everybody else should belong to this organization, should obey the rule, but we're not going to have anything to do with it? Or if you want to have something to do with it, if your country wants to do with it, you've got to now tell us that if anybody is arrested in your country, you weren't [sic] turn them over to the court.

Well, special laws for the United States. I don't know, that to me doesn't sound like the democracy that I would like to think it is in debate in international society that I would like to think we would promulgate and include in our agenda--the continuing debate to make these things work rather than simply write them off because we don't like them.

The Kyoto environmental pact, for instance. All right, so it wasn't a treaty, it never was voted as a treaty. That's not the point. We made a pact. We accepted that pact. Other nations have accepted that pact to do something. We have said, this government has said, "We are not going to accept the Kyoto pact. Forget it. We're never gonna, we're never gonna, we're--because it would cost us money." My God! That's the reason that we're not going to help the world try to avoid the danger of pollution in the world, the danger of warming, all of these things? We're not going to participate in that 'cause it'd cost us money?

That's exactly the reason that those Arabs are so mad at us. We are--they see our television. I blame television for a lot of the problems we have today. Before television, they didn't know what we were like [audience laughter and applause]. But now they do. They see these riches, these riches pouring out of us. Every doxy on the air has gold and diamonds and sapphires, and they drive great big cars; we live in these magnificent houses. And they're starving to death. They're watching a television set energized by a hand--by a foot pump, one set to the village. They gather there every night. What do they see? I dunno, "Sex in the City," for heaven's sake [audience laughter].

I think if I were hungry, if I were starving, if my family were dying of AIDS or any other illness, and there was no medical help there, and I was watching this rich nation play at its own fashion, I'd be pretty damn mad. I'd be pretty damn mad [audience applause].

So I'm just saying that I'd like to see this very rich nation of ours work on the diplomatic front, the diplomatic wars if you please, fight those diplomatic wars to get this world straightened out and make it work. And I think that's going to take an international body, like the United Nations, for that to be a true world government. It means giving up sovereignty; it means a lot of sacrifices. But aren't we prepared, for heaven's sakes, to make those sacrifices in order for a better world? I would like to think so.

*** END QUOTE ***

So, to sum up: "Those Arabs," who are at once "dying of AIDS" and "starving to death," and who by the way get their electricity from "a foot pump," are "mad at us" over the Kyoto accords and bejeweled TV "doxies." Ergo, we need "true world government." Such wisdom is the product of 65 years in the news business.
I'm most of a week late in reading and responding to my email. None have been sent to cyber-heaven. I'll get my act back together soon. Got lots and someday maybe a few will be actually interesting.
* * * * * *
This is a pipe recovered from around Jackson, MS in 1998. The Amerind died a while back and the artifact isn't properly dated. I only have it for photos and research (the photo sux, good shots later). It's probably Caddoan or Cohokian, first pass is 1,500-3,000 years old. The posted photo is poor, my guess is the date far different. There is a tool mark that makes me think it could be closest to 150 years old. Time to take the shroud off of the old microscope!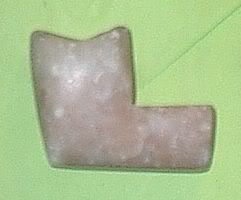 Tuesday, March 08, 2005


Even good old Uncle Walter has been talking dirty about the quality of the boy.

Friday, March 04, 2005
barfnote
Rather on latenight cBS ranking Nixon. Horrible, horrible crime. A few knucklehead friends trying to do a knucklehead deed that wouldn't do diddle. Bloody high school qualified stunt. Sheesh. Same crap that has been done in EVERY campaign since George Washington was prez. Done all of the time in every county commission campaign. Does no noticable good, has the basic function of reading your sister's diary except it's less likely for one to wind up with a bloody nose. Where was Mr. Rather when Willy was slopping semen all over the fat chick in the Oval Oriface? With all the gals he'd been doin' prior? With his dirt, coke, and S & L banking deals? With the really nasty stuff with the travel dept., Ron Brown, Vince Foster, the very illegal collection of that big bag of FBI files? What about his totally traitorous transfer of our nuclear weapon system information to the Chinese in exchange for PAC money (maybe some on the side as well?). What about those last minute "pardons" given to 100+ really bad folk (yep, him too) moments before his corrupt term as America's "First Black President" expired? That's just the visible stuff.

Yes, that's our Dan. Respected newsman, journalist. Assbuddy.

If he has a family that loves him, they should do the right thing when he dies and have his body cremated. There are probably 100 million folk planning on picking up a case or two, visiting his grave, and making a marsh. He went wrong waaay before the last fuckup. Most of us have been amazed at his lack of journalist integrity (oxymoron, in his case, he IS the last pair of syllables) and has been ignored for 20 years. Thank God, Allah, Shiva, whatever, for Algore. HE, the Supreme Being, the Inventor of the internet deserves our undying devotion.

You can tell I really like that creature.

* * * * * *

poor, poor pitiful Dan
This is sooo sad. I'm watching poor old Dan Rather on Letterman right now. The poor fart is on cBS with their premiere "comedian". God help this load of sadness. Poor old fart. I know he must feel like a total asshole, must be awful attempting to be proud when his abject jerk-offness for all these years
finally
got exposed. Thank Algore for the internet! 24 years of crap.
I wonder how grim he's going to feel when he re-views his visit with the very friendly host tomorrow morning. Suicide watch seems advisable. God, what a miserable way to end a career. He wouldn't have had one at all if Algore had invented the internet sooner. It's all Algore's fault!
* * * * * *
I just love the old asshole. This photo alone expresses my sincere respect. Can I borrow your machete?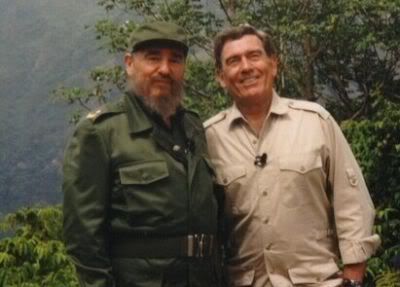 I've been know to wrap an arm around an old buddy I've been good friends with. Castro just has never been one. Don't much care for that pile of murderous shit myself.
There's supposed to be a farewell celebratory docu of the fart's years of total bias and batshit soon. Watch it for me. When I find out when it is to take place, that'll be the night I'll finish bleaching the black mold off the bathroom walls. Hey, it's been there for 7 years, just needed a good excuse. Ya'know, if he hadn't made such a massive jackass out of himself even with Dave being hyperkind, I'd be willing to let the old, dictator-loving bastard just fade out. Feed him to the sharks.
Can't help it. I LOVE bias. Fun stuff. Kos, DU, and the cute little Wonkette, much fun! Frankin is w/o funny spots but the Mountain of Moore, he's just bizarre enough to be amusing. When it is seriously presented as factual news, the knife comes out.
Is this Danny all suprised? Suprises can be fun when one is undercover!
* * * * * *
Thursday, March 03, 2005
nose droppings
Since it is another cold, drizzly day and it seems as if I have caught that drizzly cold I was exposed to most of a couple of weeks ago (been 'enjoying it for a couple of daze), send me some cute, fluffy kittens so I can bite their heads off!
Nah, go for some cheerful stuff. I just came across this
don't mess with Texas grannies
4 MB wav that's been around for years according to
Snopes
. It's hilarious and worthy even if does hurt when I laugh!
* * * * * *
Wow! These
WW 1 color photos
(~5 MB) are spectacular! Thanks Kate at
small dead animals
.
* * * * * *
This truly stinks.
The coming crackdown on blogging
Bradley Smith says that the freewheeling days of political blogging and online punditry are over.
In just a few months, he warns, bloggers and news organizations could risk the wrath of the federal government if they improperly link to a campaign's Web site. Even forwarding a political candidate's press release to a mailing list, depending on the details, could be punished by fines.

Smith should know. He's one of the six commissioners at the Federal Election Commission, which is beginning the perilous process of extending a controversial 2002 campaign finance law to the Internet.

In 2002, the FEC exempted the Internet by a 4-2 vote, but U.S. District Judge Colleen Kollar-Kotelly (lefty site with some good stuff) last fall overturned that decision. "The commission's exclusion of Internet communications from the coordinated communications regulation severely undermines" the campaign finance law's purposes, Kollar-Kotelly wrote.

Smith and the other two Republican commissioners wanted to appeal the Internet-related sections. But because they couldn't get the three Democrats to go along with them, what Smith describes as a "bizarre" regulatory process now is under way. (snip)
Go read the
rest
. Lots of seriously bad cess in that article. Even the thought of some unelected bureaucratic/judicial weenies messing with free speech on the net gives me the willies. Worth watching.
* * * * * *
Tuesday, March 01, 2005
κουνέλι κουνελιών κουνελιών
General monthly 'puter housecleaning time. That, and pay the bills, start the March, 2005 CD, review the giant 'round toit list, then restrain self from climbing a tree and chattering like a monkey. I see my BLOGNOTES file has 41 unpublished pages on it. Unpublished for a reason. That's just since January. There is some good stuff there but the web never forgets and I suspect there is a terminal in the afterlife. Hey, it's tough enough sharing this mudball with the 6+ billion, don't need the ones who have passed over kicking my ass as well! Time to encrypt it, save the stuff with a unique password, burn it off to a CD, forget the password, reformat the HD, then toss the CD into the wood stove. Works every time.

* * * * * *

..another 3 pages too un-refined to post. LuAnn and Don, I writ a reply to your last letter and was doing the editing. THAT belongs in a serious blog, not this minuscule thing, but not until after ya'll check my edits. I've got a few questions and suggestions. The content is serious as a heart attack, getting that tune sung, welllll....

* * * * * *
Go read something good folks. I'm not worth a flip tonight and the non-posted stuff, well, it wouldn't be good enough for a junior high newspaper. ...or a company organ (ever read the Hooker Chem News?)