Friday, April 29, 2005
written last night
..but coma set in before posting! Common occurrence..
* * * * * *
Lord have mercy, if only Florida could stay like this all year! Nights around 50, days near 80, couldn't stay inside if my life depended on it! Nothing exciting happening other than doin' all the good stuff since shedding the miserable grant writing misery for a while. Talked to an old friend today who has done a LOT of it over the years and gave him a few chuckles. My writing 'expertise', what little I have, has been in writing technical articles and manuals which tend to be targeted at folk 'in the trade', not beaurocratic bullshit. My buddy made a few suggestions for the best way to achieve success with a proposal; if a point can be made in 10 words, use 50. Use as much jargon as possible.
I can't do that. Re-wrote a couple of paragraphs using his suggestions. Indeed, the same information was in the paragraphs-turned-pages. Made me want to go slap the shit out of a lawyer. Hate that stuff.
The good stuff for the last few days has been installing the solar shades on the atrium, weed-eating and repairing the
roof greenhouse
('cane damage, still a ways to go on that), building and testing a new hydroponic system in the lower greenhouse (works fine, needs to be populated), potting up a couple of dozen Brown Turkey fig starters, washing and hanging out a few loads of clothes for the wolfie to eat, and admiring how awesomely beautiful the jungle is in the Spring! There's a minor problem or so with jungle life this time of the year. The Asian Tiger mosquito is resident these days (and nights). They don't do that annoying buzzing of the ears thing. They are large skeeters that come in slightly sub-mach and hit hard enough to bruise. If you slap one of those gals, be sure to have a claw hammer handy. You'll need it to extract her beak. ...can't forget the ticks. I don't much care for ticks. I have found a successful way to minimize the number of extra balls I wake up with in the morning. Ought to write it up. Fairly cheap. Somewhat labor intensive.
Speaking of bug control, yesterday I heard on a radio newscast that California farmers use 51 pounds of pesticide (annually I assume) per acre to grow tomatoes and Florida uses nearly four times as much. 'tis true that Florida is a world-class bug factory but those numbers gave me cause to visualize that usage. The bit of jungle I keep carved out as a token front yard is approximately an acre and just thinking about dumping the equivalent of four 50 pound sacks of hugely poisonous dawg feed (a reference weight that I'm VERY familiar with! ;o) on that tiny patch is scary. Allegedly, the use of the various pesticides is carefully controlled in the US, not to any noticeable extent in most other countries. After NAFTA decended on us, the grocery stores around here suddenly had a severe shortage of reasonably priced local veges and fruit, replaced to a huge extent by MORE expensive stuff from Mexico. Grown in untreated sewage. Sprayed with God-knows-what and in unknown amounts. Pretty stuff, not a blemish from an evil bug-bite to be seen.
I haven't bought a bite of that crap since. There's still a few local truck farmers. Yeah, they spray but they also eat what they grow and the ones I know don't mind a bug or ten. They also use composted dung and greenery plus various mineral amendments rather than a sewer outfall for fertilizer.
Do you see a possible soapbox in the above?!!
* * * * * *
..added: ..was just listening to the Tallahassee late news. They had a Kerryvoter complaining about the mosquito population in Suwannee county and wanting the county to aerial spray the whole area (688 sq. miles) so he wouldn't have to be fussed. Jackass. Wonder if the dingbat has any idea what it would cost to poison the entire county twice weekly and how ineffective the attempt would be? There is one certainty,
dragonflies
would be wiped out and since they have a larval stage that lasts typically 1-2 years rather than the
mosquito's
one week, the preditor/prey ratio becomes all cockydoodle. Lived in a place that got the twice-weekly spraying for a while, then it was cut off. Ever see a white front door totally black with skeeters or screens so solid with them they were opaque? Woops, about to go all soapbox again!
* * * * * *
Found this little pearl when looking for the square-mileage of Suwannee County:
The Florida Folk Festival at Stephen Foster Folk Culture Center in White Springs Florida invites you to the 53rd annual festival featuring Emmylou Harris to be held on Memorial Day weekend, May 27-29, 2005. Come and enjoy the festival and if you are looking for accommodations near by; Live Oak is only a few miles west of White Springs!
I haven't seen Emmylou since she was the opening act for Willy Nelson at the Circle Star Theater in Belmont, California back in 1974! Yep, been a fan all these years, think I'll sell Rustbucket and buy a ticket!
* * * * * *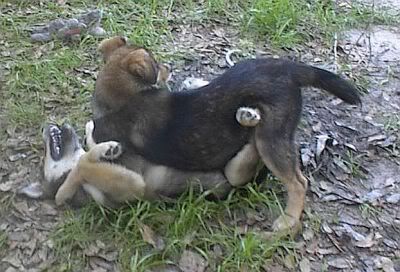 Monday, April 25, 2005
monday, fuzzy monday
Thursday, April 21, 2005
did we actually PAY for this?
Friday, April 15, 2005
ear-scritchin' day
Thursday, April 14, 2005
Wednesday, April 13, 2005
AWOL (again)