Wednesday, November 23, 2005
no rabbit tonight
Guy, sweetthing has yer number and I rather imagine you've had yer ears ringed a few times anyway! ;o)
I went and got the old Ruger Mark II out of the drawer and after deciding it really did have a bad case of neglect rust, scissored off a chunk of xxxx steel wool from the airless container. Steel wool turns into dust in days, fine steel wool in hours. I haven't fully stripped the thing in so many years, been a long time since I was involved in shooting sports, couldn't remember how. The MK 2 is a miserable thing to dismantle and reassemble and I've misplaced the manual that came with it when I bought it 29 years ago. Too much xxxx stuff in the mechanism to use until properly stripped, washed in mineral spirits, then dried and lubed. It is out of production but Sturm, Ruger, & Co. has a pdf manual on the gadget. Instructions begin on page 20 after 19 pages of gummit warnings.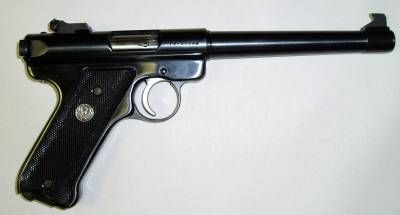 A bit too heavy, tends to jam with cheap ammo, excellent small caliber pistol for varmints at up to 50 yards. If you have large hands,
never
double-hand it. The slide will eat your knuckles! A old friend, welder/pipefitter, maul-handle breaker, father of many, and I used to take a crowd of kids out for a little rabbit shining occasionally. He rather admired my ability with the little pistol and god knows I'm not a very good shot. Merely decent. I taught my 100 pound bride who said she had never fired a gun to use it. She could make a pop can dance. I used to hide the clip just in case she got mad at me! Anyway, Dalton (pipefitter feller) wanted to try it out in the daylight. Damn-near removed the last joint on the thumb of his left hand. He liked the hex barreled .22 rifle anyway! ;o)
I need to write about Dalton, Louise, a whole bunch of kids, and campfires after the hunts someday. Louise, Dalton's wife of many decades, mother and grandmother of many, is one of my favorite people of all times. Born and raised on the shores of the Okeechobee and sooo close to what Majorie Kinnan Rawlings used as a character.. I hadn't read any of MKR's stuff since high school until 3 months ago. Old book, turning into moldy dust in the library. Now I've got to find more!
My 100 pound bride who I've not seen in 21 years turned 50 today. Happy birthday generator of infinite lawsuits and endless (until FTC in 1999) IRS seizures. May your next half century be as pleasant as my last 21 years.
* * * * * *
Did anything happen worth paying attention to today? No teevee, no CNN or ABC nooz, just the quiet of a cool day in our America. I know that good folk with a strong sense of purpose are bearing arms and facing the lord for my ability to sit here and write little stuff that makes no difference. Folk that are young enough to really miss the wonderful get-together that a family Thanksgiving Day can mean, possibly with those that won't be there next year. My share, some of which is worrisome, is so tiny compared to those guys and gals. I salute you my friends. I'm so goddam
proud
of you!
how not to spend a Friday night

..continued from previous post. Since I had acquired lamb tits (it was labeled breast of lamb) on the Wednesday shopping trip it seemed to me a nice night to cook up a decent meal. Now I dearly love lamb and each time shopping I have to look. The new store had leg 'o marked down 20% which meant the fetal leg which was about twice the size of my fist was "only" $30. It's hard to enjoy a meal when it costs a buck per forkful! The lamb tits were cheaper than hamburger and the store screwed up as it was a rack of lamb! Fetal lamb of course but what the heck. Garlic & rosemary plus some Crosse & Blackwell at hand and a large Castro Valley thistle with homemade Hollandaise sauce (the first lemons are ready off the tree which also means the speckled-water trout are probably running off Horseshoe) and just-baked homemade bread made my innards all happy. Sleepytime happy however there were all those nice scraps the little dawggies would enjoy. One big handful for each and someday I'm gonna draw back a couple of hands with all the meat sucked off the bones! As Friday night was clear, brightly lit, and nicely nippish, it was time to pronounce "Night Hike!" No jungle hike, just a mile or so up and back the lane to the big field to enjoy the sky canopy and the gals hauling arse off chasing cottontails. Came back just cold enough to appreciate the old unheated earth shelter, de-stiffened from the day's labors, and re-affirmed why I live here. Supper dishes? They'll keep. The morning's electronic project could keep as well. Since I'm in the process of re-reading the 3 dozen or so John D. MacDonald books in the collection and was on a 1953 title that has gone unread for a decade or so, it was time for Radio Margaritaville on the hi-fi, a glass of pineapple juice, and the can of cashews I'd spoiled myself with last shopping trip! Settled in to the former 1941 mortuary bed and life was good. The gals lit up with "children of the night, what music they make!" probably due to a neighborhood sing and I was awful tempted put on some britches and go out and join in but it was all nice and warm, the sheriff had just found the bodies of the adulterous wife and traveling salesman under the garage slab, and Radio Margaritaville was at lullaby level. Pineapple juice and cashews are a perfect complement and morphos was soon to visit.
Then it happened. A sound and sensation truly Lovecraftian. I was mildly disappointed with the cashews as the store brand (50% off) were not as greasy or salty as the premiums, probably partly due to lamb being so greasy, still nice to pop one in and enjoy the texture until that last one. The most godawful crunch. Two lower molars I've been fond of for most of a half century were not up to the strength of compression of a pebble. Bone conduction sound of grinding rocks. Try getting
that
earworm out of your head. After spitting out the remains of teeth my evening kinda went downhill.
Could have been worse. My dentist was a splendidly healthy fella, married forever to the same gal with the same interests in horticulture, fishing, and both being Mormon, lived the healthy lifestyle. I knew his age and the first time I met her at a IFAS open house on hydroponics in '99, I was thinking trophy wife! Lots to be said for a reasonable attitude on tending oneself. He dropped dead fishing at the ripe old age of 62. Could have passed for 42. Ask not sayeth Mr. Dunne.
* * * * * *
Can't get too worked up about politics at all anymore. Moonbat McPatton, a.k.a.
"The Honorable John P. Murtha"
has shot himself in the ass with that "War in Iraq" posting. Read around if you wish, I did. Pitiful. The JAWA report did a bit of a job on the fellow with
Murtha Has History of Urging Cut & Run
and additional linkage. Yeah, I toobed ABC and watched the Main Spin Media take. Just pitiful.
Another piece of pitifulness was
Venezuela to Provide Discount Oil to Mass.
Kennedy and Kerry's state. Sponsored by Rep. William D. Delahunt who represents the Tenth Congressional District of Massachusetts -- which includes Cape Cod, the Islands of Martha's Vineyard and Nantucket, and Boston's South Shore, from Quincy to Plymouth. Obviously accepting foreign aid from Fidel's suck-buddy shows communism is a powerful force for good in the great state of Mass.

At least Emily Proctor is still on CSI: Miami and that's enough to cause me to keep a teevee! When she gets killed off it'll do to my viewing habits what the death of #3 did to my following of NASCAR. Haven't watched a race since. Dale was just plain-old good at what he did, Emily is an actress simulacrum of a few ladies I truly enjoy and respect.
* * * * * *
18 years old: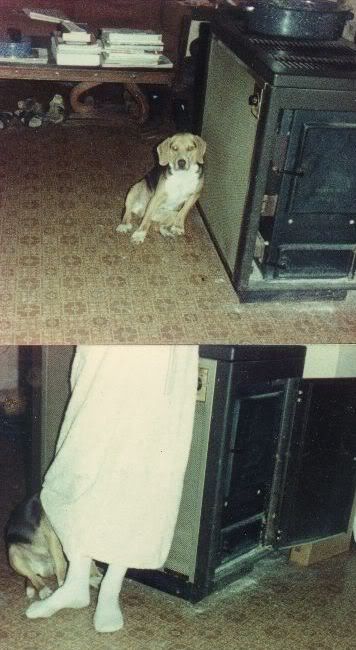 Had a halfway decent freeze down here in the hole last night. Since I don't hunt meat until after one, might just go shoot myself a Thanksgiving rabbit tonight after I clean up the old .22 target pistol. The poor thing is a bag of rust after being ignored all the wet, sweaty Summer.
Friday, November 18, 2005
4 weeks, 6 days, and 21 hours
*sigh* Thought the good ol'
Borrelia
had finally been evicted. If you want to make God laugh, tell him your plans...
Finally got feeling good enough to try and get into town last Wednesday for supplies not purchased on the short job of 21 October, been out of LPG, back to homemade dawg feed cooked on the electric, and still needed a muffler for the rotary machete so I could mow the roof and remove the atrium sun shades. That, and the groceries bought last pass were only supposed to last until the following weekend. Other than truly not enjoying running the gamut of the ill-timed plethora of traffic lights spaced a couple of blocks apart just to get past the motels, fast food joints, trailer and car lots to get to the first merchant, there was the annual lost yankee flux and lingering glop from the pink eye (again). There
is
a bright spot. I always get all shiny and clean when going into the burg. There are people there. Some are girl-wimmin-type people and they are so nice to look at! Since there was no replacement for the muffler on the 27 year old Briggs & Stratton engine on the rotary machete to be had locally (let your fingers do the walking) and since B & S provided 3/4" NPT threading on the exhaust port, the generic in-line with a street ell works just as well if one has a tap to clean out the quarter-century plus of carbon. Lowes for the LPG and the muffler. ***sigh*** Went to the service counter to trade gas jugs. Oh to be 30 years younger. I wept. Ethereally lovely. Went and bought my muffler parts (made in China) and then asked for the gas bottle trade. Another gal, a near perfect version of Jaclyn Smith at the age of 25, came out to unlock the bottle cage. Perfectly trim, perfectly feminine, hoisted the new jug (~40 lbs) out and when I went to take it from her to put it in the cart, she developed a sincere expression of worry on her lovely face before asking me if I was sure I could handle it. I know I've gone badly downhill during the bouts with RF, didn't know I looked that bad until the next stop.
Went to the fancy grocery store that I've not been into for 4-5 years. Pricy but the only place outside of Gainesville one can find certain items that make living a bit more enjoyable and I've been without them for a long time. A fella that had probably been collecting Social Security for 5 years or so bagged my goods and decided I needed help hauling it out and loading same in the buggy. He was damn-near right but hey, whyfo he noticed? 'tis true I was wearing the jeans that I'd put on the go-to-flea market pile several years ago due to being way too snug and I was using one hand to keep from looking like a rapper. Boys just look ridiculous with their britches hanging low, old men, well, it's OK if they had to get them out of the Salvation Army bin. Not a lot of selection there.
There were 2 more stops of the 6 on my list to make but with daylight running out, I didn't want to trust my night vision just yet. Went all Scarlett with "another day" and came back to the swamp and was met by a couple of insanely happy dawgs. One would think the prodigal son had returned. Sheesh. 4 hours. Sheps do have a tendency to fuss when things in their environment changes. Remember this photo and the story that went with it?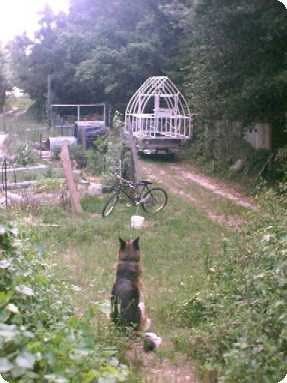 * * * * * *
Got 'er done. Well, parts of it. I got a heck of a kick out of poor Rima when I was cleaning all the carbon out of the exhaust threading. 1/4 turn at a time, horrible screeching. She was convinced I was murdering poor old George! Imagine fingernails on chalkboard mixed with the sound of brutal murder! She and George survived and I got the new hardware installed. One snort of gas with the air cleaner off and then off and rolling. Nope. The Chinee tires and tubes were airless as usual. Had to go get my Chinee pump (twice replaced hose & nozz), then re-fire. Mowed up around Rustbucket as it is high time the critter gets charged and fired.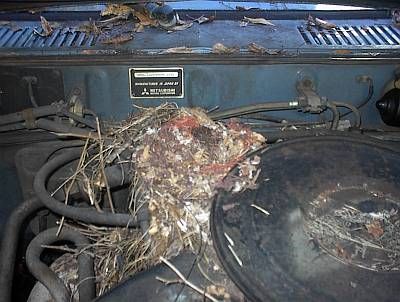 Bird nest. Too big for a Carolina wren, about the right size for a Chimney Swift. Usually wood rats or the occasional Norway rat moves in. Wood rats and birds are OK, Norway rats require the use of CCI product # 00039.
Drug out the 100' multiply puppy-chewed extension cord and my recently repaired 1970 Western Auto battery charger and it'll be hot enough to light the Luscombe in the morning. It'll get noisy in the neighborhood, especially when I roll it over to where my firewood/garden cart has been residing. It's needed here. No tag, no insurance, blown-out leader pipe... uh oh. Nope. It won't be driven. This place is powder dry and it'll light up all the dried growth from the lane to the hard road. Got a slight image of the same when running George through the roof jungle with the Chinee Makarov muffler. Stuff kept falling on it and catching on fire. Rustbucket spits flames.
Off to the roof. I bloody
hate
mowing that goddam roof. Got enough done to get to the atrium panels and got them off and stowed until April. 40 minute break to re-learn breathing. It's a pisser getting so wore down that so little takes so much. Usual results during re-coop and anyone that has endured such knows about getting all the stuff working right again. Next task was to
finally
mow out the 8' tall weeds in the collard patch. Sheesh, there is one particular weed that can't be pulled, so tough that it tears up weed-eaters, and really likes growing in the collard patch.
Roof gals: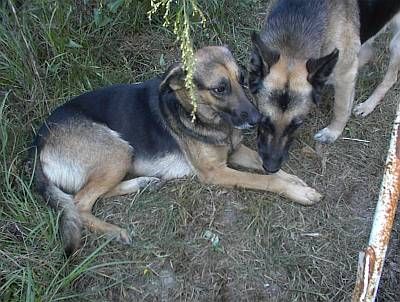 * * * * * *
All heads scritched, all tools put up, might take a look at the nooz on the net. Medium probability since it'll be SSDD with the Religion of Pieces probably murdering in the usual fashion, the moonbat party calling for their own heads by past emissions, some or the other of the jackasses wanting more for less, SSDD. I get a smile out of a hatful of bloggers and there I'll go.
* * * * * *
Saturday, November 12, 2005
sideways grin!
Seems
Steve H.
is running hot again. That is one post of 3. Go look. I'd noted the somewhat large posts, got around to reading them and the comments this morning. Generalizations are usually specious and I tend to get off-put quickly, first glance led me to think that was where he was headed. Nope. Re-read the posts carefully and he's hit a bunch of nails directly on the various heads. Having spent the better part of a decade in the San Francisco area 30 years ago, I got a good "education" of what "free" means. Missed out on the pussy and oh god, was there endless free tail available. Morality didn't come into the equation at all; simple common sense did. Even back then the various VDs infected something over 30% of the population and that didn't include herpes or papilloma. There was a version of the good ol' clap (gonorrhea) that was tediously antibiotic resistant and AIDS had not been diagnosed as such yet. The area was pretty-much a fuck free-for-all. San Francisco is just a overpriced, overhyped, aged trannie whore with paint put on in places to sell a fiction to tourists. Seedy and as useless as New Orleans used to be. And oh yeah, I'd be "tour guide" for visitors! If they were folk that I didn't much care for it was time for North Beach. Bible salesmen got stranded across the water in Sausalito with some houseboat friends that were, shall we say, a bit kinky? Nice people actually. They were re-writing the Kama Sutra for homosex. Had excellent judgement concerning wine and food, tended to expand nuances with pharms.
There is a price to be paid for withdrawing from society. Has it been worth it? What were the alternatives? What
are
the alternatives?
Friday, November 11, 2005
come to america
We are adopting all of the social structure learned from ALL the new immigrants! We've learned from fwance!

There's not too much left to write about the fun and games taking place in Gaul. Socialize, subsidize, and suffer the shit.

I'm just too damn disgusted with what most of our elected leaders have been doing and the mindwipe quality of the MSM. Got my 10 minutes of nat'l news this week, ABC with Mz Snakelips and the report referring to the black muslim scum being called "young 'uns repeatedly with a video spot having the "young 'uns" describing how repressed they were with a shot of a completely vandalized elevator button panel not repaired and 3 trash cans that didn't have lids in place. Young 'uns my ass. Parentless hoodlums. Islamic parentless hoodlums.

It seems organic life has as it's basis the function of a self-quenching oscillation. Over-population, resource depletion, climate change, etc., will cause various marginal forms of life to do the right thing and become extinct. Rise to prominence, use up resources, then adjust or die. Theories abound and they are a true treat to study! Personally I'm fond of the theory that dinosaurs lived with humans and due to the dinos tasting like shit, got cleared off to free up grazing land for cows that actually taste pretty decent if cooked properly. Saber-tooth cats were a pain in the ass, dire wolves couldn't be house-broke, and that miserable wooly mammoth critter, hell, couldn't get the hair out of the meat even after taking all the trouble to make the damn things lay down and become lunch. No loss.

Then we have "revealed" doctrine. The Koran. Gotta be followed or one is damned forever. It includes such "revealed" wonders as all infidels must live in a state of servitude to what Muhammed the Sand Louse had some of his critters write. Fucking young men and pre-pub gals, well, he WAS the Prophet. Those kinda folk can be forgiven even if they whack the heads off local males so they can have sex with the widows. Kinda kewl don'cha think? I was quite amused with all the "revealed" stuff. Actually it's a pretty good deal if one is a male with a teeny Johnson. Da ho's, dey belong to you an you can do whatever. Dey be like, unclean ya know. De Profit, he don gone an say dey is. Profit, he be da man! Get big-time wif dat bro muhammed, he tells ya, ya get all dem biches if you get da tap doin' wat da buk what ya can't read says.

Some folk get the benefit of time in prison (none). Black welfare clients come out often as muslims. Farrakhan food at best (or worst). Illiterate. state-dependent, fueled with the same shit that powers all folk that could have used a dad and mom that gave a shit. Somewhere in the past there is an essay I wrote about my young 'un hood in the deep 'souf. Funny thing about kids, they don't much pay attention to the other kids color until we get taught that one should. Kinda like religion. My little bit was a somewhat mixed. Catholic, Methodist, Lutheran, Mennonite, and some sorts of Presbyterian. Confirmed GL in 1964, damned by the Pope by marrying a ex-communicated Catholic girl (I could send money and then I might not go to Hell!). Naw, we got divorced, I'd have to send more money so el papa could continue to foster the ancient "go forth and multiply" to the hoards that cast gold at the foot of Saint John the Divine.

Go forth and multiply. Stupidity cubed. Find me a country that isn't total shit what isn't a fuckhaven. You can save time as I've delved through the gigabytes and there are exactly zero with a positive (useful) exude. Damn-near made my quarter-century non-proliferation treaty something in need of repair. Jebus H. Christo, something well over 300,000 new tricycle motors were hatched today. Precious new little lives. Enough to replace every man, woman, and child in the United States in under 3 years.

Sexism? Well, Mohammed, the pedophile says each male can have 4 unless he's big stuff and then he can have all he wants. Slave girls are cool and raiding non-believer towns gets lots of nice, fresh nookie. Hell, they jus' be biches, ain't worf much anyway. El Papa is into that "go forth and multiply" and that has worked a miracle with the Spanish derived folk for 500 years after he got done burning jews. Girls are nothing but breeding units, a degree understood with the Spanish derivations. Chattel is at best under Sha'ria. Something to do wid da hos an pimps so prominent in rap and hip-hop? I have a very hard time understanding why the acidic liberal female part of the US population supports Islam. My sorrowful thought is awful.

Saturday, November 05, 2005
bedtime
should not have been interrupted yesterday morning for all the progress made over the day. Tried to complete some carpentry including some finish work without the proper materials. There was just no way I would consider driving into Lowe's on Friday afternoon, don't like suffering that much! Worked with what was on hand and the results will be suitable for kindling later on. Gotta look at the bright parts. There was another bright part; the work involved freehand-fed angle cuts on the table saw and ripping 1/2" sections off a heavy counter base with a skil-saw and the shop isn't splattered with blood! 20 years ago this wouldn't have been a fret. Parts wear out and get broken.
Last February Bronson departed this realm of ultimate bugs. I miss the feller, been here for nearly 7 years and did a yeoman's job of keeping the house at a very low roach level. Since I only heat with wood, bugs come in under the bark all winter, no chance of starvation. All those years I only had the minor complaint with him as a roommate and that was his dropping the used bug parts in random places. That, and staring me when I occupied the throne. Frick & Frack, the broad-head skinks moved in soon after but never made the grade as roach-munchers. They specialized in eating housewives, a term used for the palm-sized hunting spiders which most female-type people screech about when they turn up in the bathtub. Housewives aren't much good on roaches but they are hell on most anything smaller.
I haven't replaced Bronson yet but it's probably not too late this year. Indian Summer is almost becoming Summer again with day temps back in the mid-80's. Easy enough to just go pick up a random toad and bring it in but that really isn't the way. Yeah, they all look alike and they have brains the size of a typical democrat but there really is a difference in their personalities. The way to pick out your toad is to invite a friend over, turn on the porch light, take off your shoes, bring out a couple of lawn chairs and a few jugs of home-brew, then wait for the bugs to attract the local toad population out. Drink the home-brew. When the toads hop out of the surrounding swamp to enjoy the banquet invited by the lightbulbs, wiggle a big toe. Toads are not the sharpest knife in the drawer and one will eventually decide that toe is a big-ass bug and lay a major-league ZOT on it. That bug don't budge! Bronson was a mature critter when he became the house assassin selected that way. No people fear, no fret on zapping large items, just don't wiggle toes while sitting on the pot. Toad tongue-glue is damn-near as good as cyanoacrylate if you consider the awesome length and fragility of that very long thread they feed with.
Part of the reason I brought this up was due to me finally reading what
Steve H.
had to say about him finally using what he'd mentioned in a post a few weeks ago about using isopropyl alcohol as a bug zapper. I immediately went and found an adjustable spray nozzle in the goody box and it threaded directly on a quart bottle of 70%. Damn that's fun! No more flyswatters (gotta whack Florida roaches
hard!
) and I'm a dead-eye! The only problem was I ran out of targets within the first few days. Now I have to leave a door or window open to gather targets for my evening entertainment!
3. I managed to test my theory that a squirt bottle full of alcohol would waste roaches without getting poison on my counters. I found--heard, actually--a big ol' roach scrabbling around in the kitchen, and when he ran behind the lard, I went and found the alcohol where the infernal maid had hidden it. I gave him a good blast, and he went nuts and did a back flip onto the floor. While he was lying there, I gave him another blast just to make it hurt, and he had some sort of a seizure. Then I decided to test Flamethrower Mode. I held a Bic in front of the bottle and toasted the roach effortlessly from four feet away. This part was totally unnecessary, but it greatly added to my enjoyment of the hunt.

Here is what I want to know. How come I didn't see one roach while the power was out and I was living in filth? Are they actually attracted to cleanliness?

Anyway, he now resides in the trash and is deeply sorry that he messed with The Kid.
* * * * * *
No comments on the problems in Frog-land today. I did go through a bunch of the links on Instapundit and Gatewaypundit plus the usual MSM stuff. Socialism and political correctness doesn't seem to be working too well with a population of African muslims that seem to have appeared in large part due to lax immigration standards. GUYK made a short comment in the last entry that says what 5,000 words did in one post I read earlier. Guy, you are wrong on one detail. Those folk are bought and paid-for voters. Beaurocracy is a malignancy and you can find it in nearly any enterprise using taxpayer financing (and a bunch that manufacture ink on paper). Little gods want to be bigger gods, they clone themselves, morph, are immune to most antibiotic (antibullshit & paperwork) treatments, and will grow until the host dies or rebels. Hitler had it right in the quote I posted about a year ago from Mein Kampf. Catch them young and teach them what you need them to believe. National Socialism (Hitler youth), the madrassas, or the utter dreck that is the state of instruction in far too many of our very-well financed public schools and unis in the US. It is a blessing that so many of the kids actually survive the brainwashing. Those that have been sent back to the plantation by being fed, housed, medicated, and clothed (educated?) by the magnamity of the "State" only consider what the good doc expressed quite well. Yes, it's human nature. "Free" stuff is never valued. No, I'm not to begin a document expressing what truly superb writers like Dr. Pat Santy, Mr. Hanson, et. al. do so well. It will be interesting what France with slightly less than twice the area of Colorado (from the CIA World Factbook) and 60.7 million people will do with their little muslim/welfare problem. Our MSM is apparently terribly "fwench" these daze from what I read as I have a severe aversion to watching or listening to same. It makes me say bad words then Cookie and Rima get perturbed.
I donno. Detroit died back in the late 60's. Went ballistic shortly after LBJ started the "Great Society" BS. 1.6 million in the year of my birth, about half that these days if anyone is actually trying to keep track. I got a kick out of that piece of shit
Tax plan to unveil major reform
.
DETROIT, Oct 31 (Reuters) - A blue-ribbon tax reform panel is set to back steps to greatly simplify the tax code and lower rates, recommendations that could boost U.S. savings and help the economy, U.S. Treasury Secretary John Snow said on Monday.

Speaking to the Detroit Economic Club (sounds like a fine organization!), Snow said the proposals, to be unveiled on Tuesday, would cut tax preferences and deductions and change corporate expensing rules.

While he said the recommendations would likely meet with political resistance, he added: "The ultimate test of tax reform is whether you get it done."

President George W. Bush appointed the panel in January and it will deliver its report to Snow. The panel has agreed to back lower tax rates for all taxpayers, coupled with the elimination of the deduction for state and local tax payments, and tighter deduction limits for mortgage interest and employee-sponsored health care costs.
"Blue-ribbon tax reform panel". Yeah. Right.
Have you read the
final report
? It's only a 9 MB pdf and 292 pages. I've read enough to know it isn't worth enough time to complete. And yes, I've re-read the Koran thrice (know thy idiot enemy). Yeah, it'll work. Just fucking fine it'll work. A crock of mind-blinding crap. Some bright kid who can't be expelled from Cornell or Columbia is going to do a doctorial analysis of how pages of this type of crap turn into laws and regulations (same actually) by page count. From doing something similar myself it appears it is around 7,500 pages of regulations per page of recommendation. The regulations need a beaurocracy to enforce same. I just
love
the IRS using up so much of America's productivity complying with rules that require small business owners to expend 20% of their time complying. Admittedly it
does
provide a lot of work for bean-counters. And beaurocrats. And lawyers. It is a real treat in divorces. I wouldn't even vaguely consider incorporating in the US these days when decent options are available off shore. I also wouldn't be interested in hiring in the US as slave labor is available in slave countries that have Most Favored Nation status. Can't hire folk in the US with the required endless benefits and OSHA, EPA, etc. regs and compete with the "lower -priced stuff" from what Sam's "Buy American" stores morphed into. Just for a silly giggle, about a year ago I went into Wally-World with a replacement can opener on my list. My ECCO that I had been using since 1968 was just plain old-fashioned wore slap out. Wally had 2 that were the physical same sort hanging on the rack. One was made in China (suprise! ;o). The other had "made in France" on the cardboard. They were identical. I studied the cutting wheel, the gears, the transport cogs, and the grips. They were absolutely identical. The Chinee cost $2.49. The French was $7.95. Obviously I bought the cheaper. It crapped out in 2 months. Fortunately the hunting knife my dad gave me in 1956 does a decent job on opening cans. Solingen makes decent steel! Thanks dad!
Chinee breadmakers can be re-designed into wonderful yoghurt makers. I made one for my former wife. Motor failure. Makes excellent stuff at a fraction of the cost. Since Chinee breadmakers have a MTBF of about 6 months, they have parts that are reusable. The thermistors need harvesting as they are one component that is still (as of this date to my knowledge) of US manufacture in most cases. One can't find a toaster-oven from the US anymore. I probably have the last one made and your kid who was born when it was built has had his M.D. placard on the shingle for several years. My Nina bought me a big GE about a year before she moved west. Horrible temperature control, just mapped it and really liked the gadget. Firing up the big old Wedgewood to bake a pie or a pan of brownies is simply stupid. Hell of a heat load plus the fuel costs more than buying same considering the cost of getting LPG down here. Of course the GE was made in China and the pitiful thermostat failed. Fixed it once (horrible device to dis-assemble, worse to re-assemble). Eventually failed again. Both failures involved tremendous amounts of smoke.
I'll post a cure for the Chinee toaster oven problem if a friend's 12 year old son will loan me his Mavica some day.
Friday, November 04, 2005
busy week
Too much that needs doin' and it's taking serious discipline to keep on some sort of track. By the time the day has faded, so have I! Clones, I need clones. Hopefully before November is done I should be caught up to where I wanted to be last August.
When I shut down last night I cruised through part of the blogroll plus a couple that haven't been entered yet and stopped on Lilek's. He had a link with no explanation so I had to go look. It turned out to be
The Barbarians at the Gates of Paris
by Theodore Dalrymple from the Autumn of 2002. It is 9 1/2 12-point pages and deserves reading. I had heard of Dr. Dalrymple before, just had not read anything of his in the past. After finishing that essay, I googled him and read a few more:
The Frivolity of Evil
Autumn 2004
Living for kicks: the ugly face of Britain
October 22, 2004
The Carers need the Cared-For more than the Cared-For need their Carers
Theodore Dalrymple is a British doctor and writer who has worked on four continents and has most recently practiced in a British inner-city hospital and prison. He has written a column for the London Spectator for thirteen years and is a contributing editor for City Journal in the United States. His earlier collection of essays, Life at the Bottom, was widely praised.
It's daybreak, time to get my ass in gear.