Sunday, August 28, 2005
McCain is a jackass
That bastard doublespeaks every thing he says. That diseased male cunt (used for emphasis) that runs "Face the Nation" ought to be modified. He makes Dan Rather look good.

I should have gone back into town this morning. Turned on the 30 year old 12" b & w to monitor the monster. My sweet Jesus, that storm has become a monster. Katrina is going to eat a whole bunch of the South coast. 160 mph sustained, another day to build muscles. Camille redux. Please, no hurricane parties in NO, go inland a long way.

I've absolutely nothing flip, funny, or sarcastic to say. Nastystorms have killed 9 of my prepared friends over the years. 3 might have been considered somewhat less than wise. Probably true. I lived, they didn't.

This will be a true killer hurricane and will do a lot more damage than you've seen on the "news".

*

When my father was getting his ass reamed by my mother who had been fucking his best friend for more than 6 years, he damn-near went homeless. That early-40 year old man had to deal with what seems un-avoidable. Girls are nice. They own all the nigger judges. You WILL get screwed. I search-engineed (not Google) to find the latest stats on the "loosers". Boy children, rent, don't buy. YOU WILL LOOSE!

Dad had a Merchant Marine union card, probably from grandad, went to sea for a few years. Oil tenders in the Gulf. He used to write me a lot of letters. Nothing one could ever consider even the tiniest bit "familial", mostly life on the tenders and rigs. Two were about hurricanes. Not a lot of fun on the floating scrap-yard. Nothing at all about the HELL the creature he'd asked to marry him back in 1948. And yes, don't marry a Alabama woman. Actually, don't marry at all. You. Will. Get. Fucked. Over.

No, I don't advocate such, and yes, I DO (did) give the various young men advice. Not from my experience, there is much worse. I'm a wuss. Quite often just from their own excuse for a family.

* * ...lots of thoughts of a batch of kids... ..not the "rescue kids" back in Kali, just local kids back before CFDC ate mos' everything.

I quit for now. Each post brings me another iota closer to my empty demise. There is a gal pal, 60's issue, still likes me a lot. We had considered such, passed it for more skool. Her kids now have kids.

It isn't a lot of fun growing old when one has no bits of family and one's friends have taken the permanent dirt nap. Bastards. ..ought to be shot...

Saturday, August 27, 2005
unloaded
It took a while. Parts of me don't work too good anymore. The 'lifting' parts have been in less than optimum shape for a rather long time and the gals, well, they've been a bit tired of my 'home cooking' feed for a week or so. They gobble it up in mere seconds but it's the stuff I make by a recipe given to me by a northern gal what raises dawgs that live where it gets 40 below. When it's northern Florida winter and the wood stove is mostly always fired up, the brew kettle becomes the "cannibal pot" using the good stuff purchased and saved over the last six months. The dawgs stay sleek and shiney, full of piss and vinegar, plus they gain weight. Snow is rare here (sticking snow) but an occasional week+ below freezing even through the daytime isn't too unusual. Just too damn cold to play outside with the ugliest winters around. -40 in the Sierras, good stuff. Bring brandy. -20 feeding the critters in Albany (NY), wear woolies. North Florida winters suck.
The gals always know hours before when the device that rolls is due to make motor noises. Smiles, pacing, frequent trips to and fro da buggy. They now know fer sure when "the smell" starts. Since I don't go out often (monthly or less), the buggy is kinda parked where there is at least one tick per leaf/frond/blade. The slather of Skin So Soft, especially where the inevitable bloodsuckers will migrate, is pretty thorough. I have very soft balls. Dawgs have good noses. SSS is also a "don't bite me anymore" for puppies. I'm a wuss with pups, takes me forever to decide that the gnawing of walking legs has become uncool. Slather on some SSS. Discipline not required. Oh, by the way, chiggers and Asian Tiger mosquitos ignore it.
On the return,
FOOD!
Warm-weather food. Low-col, NO VEGE (not true but the winter recipe calls for a fair amount. I dice, not puree') food. Try hauling a 50# sack inside with all that nice co-operation!
Poor Rima. She's been eating a diet that would probably sustain an Iditarod dawg but she's getting to be ribs. Cookie isn't much better. High protein, high fat, undoubtably major worming time again and I've still a few doses of what works. Remind me to keep my mouf' closed if I mow next week. Tall dawgs, tall grass, + mower: keep mouf' shut! Been there a few times. Baaad idea.
Got the broken washing machine cobbled enough to run a load. Ran a month of sick sheets with lots of bleach. Tomorrow I may try a load of malarial clothing. Did I mention Florida kinda sucks? ..and I'm not just a native, hell, I moved BACK here. ..mumble, only those with too much money or too few brains...
* * * * * *
GUYK, I read Mr. Uris's masterpiece and way back then, thought I'd found another genius author. There are a lot of folk that have written one true masterpiece. Some, quite a few actually, have written a bunch of good stuff and I've got my favorites. The bastards quit breathing and I'm pissed. MORE! There are also a lot that have gotten on the NYT bestseller list what wouldn't make good compost. Then there are folk like Mr. Michener who had a hard time writing a
bad
book. I've 22 of his in my library, 2 are rather feeble, 3 others alone are individually so good that a human should be proud to have been able to write one such. Check his bio some day. A rather remarkable man.
* * * * * *
Just finished stowing the rest of the groceries and 'iron rations' (aka; storm feed). Left the eggs and mushrooms on the platform in front of the conveyer belt. **sigh!** I unload a cart with the hard goods first, any meat in one bunch, then veges, finally the delicate stuff. The bagging folk sometimes tend to be less than gentle, plus, since I'm rarely in town and might have another errand, like the roadkill easily put in the ice chest. Gettin' too old for my mushroom omelettes anyway... Besides, since my Chinee GE oven crapped out, won't be baking (where eggs are needed for those that don't bake) anyway (sour grapes! ;o) Other than eggs and mushrooms, there is no reason to leave the swamp until October. Well, I DO have a letter in a 9 x 12 that needs mailing. It might get somewhat box-sized by October. UPS makes swamp-calls when they don't get lost...
Got a serious topic with some credible sources to yak about. Partially written and the "partially" part needs a clean edit. I'll leave you with this little video clip hosted by Emperor Darth Misha I, aka,
The Anti-Idiotarian Rottweiler
. It's just
Bob Hope
.
bullet dodged
But it kinda looks like it's gonna really suck around New Orleans come Monday morning. I've taken to making a copy of the first storm-track plots issued when one of those urban renewal/tree-pruners gets within range after last year's Crop 'o Treats. Even the
Spaghetti Model
doesn't offer much hope for the Big Easy. There
might
be a city that could be more damaged by a big 'cane but right off the top of my little grey head, can't think of one.
Also, on hurricane names, girls & boys, Anglo, French, German, Hispanic have all been represented. Got a kick about a pair of last year's that came and said
"hello"
as they were sequentially the name of my first former wife (with a minor spelling difference)! And naw, she wasn't bad at all. Awful good if my memory serves! ;o) Whyfo we doan have som good ebonic names lak Obama, Mfume, or Shakaqueezi? ..or Religion of Pieces names? Osama, Abu Musab, and Raghad (one of Saddamn's brides, I just
love
that name!) come to mind.
You must forgive me. I've regained most of my sight and I'm re-reading James Michener's "The Source". It's probably been close to 30 years since those pages were turned. Superb book, up to page 889 of 1,088. He could have alternately titled it "The Law".
'mo later, got to go unload the first groceries since July 29 from the buggy (won't drive whilst blind). Yes, there's a large ice chest in it but it's also 93 degrees and full sun in the humid August Hell known as Florida. Did I ever mention that Florida sucks?

Monday, August 22, 2005
interesting
This is just a stock image: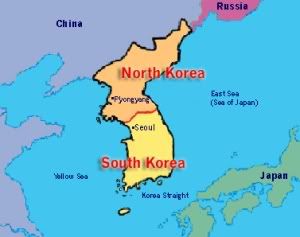 This is a cropped image from the
2000 November 27 APOD
. Don't click that link unless you can accept a 388 kb jpeg. Click
here
for the normal version.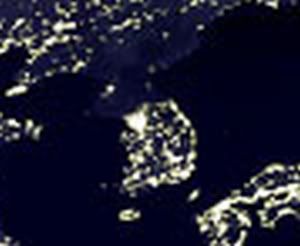 I'll betcha you can pick out the 38
th
Parallel pretty easy. BTW, both Nagasaki and Hiroshima are in the image. As farked-up as A-bombing is, Japan did jus' fine, probably a LOT better as an additional 2-3 million of them and 500-800 thousand of ours got to keep sucking air.
My future 17 year-old dad, the Alabama farm lad, was one of those squids training on Guam in August, 1945. He volunteered in January and his mother had to sign papers for him to enlist.
Seems a little "nukey" didn't mess up Japan near as much as poor North Korea not gettin' any. Hey, Kim ILL, want some nukey? Give it a shot sweetie!
Sunday, August 21, 2005
Northwest Airlines mechanics strike
When I read
this
article yesterday, it seemed pretty obvious that there was going to be a shit-storm. 'sho-nuff, and I'm not here to blow any smoke. Let's just look at some of the economics. GUYK has a couple of posts on the subject and his comments about
WORK ETHIC
are worth reading. My experience with employee weighed overhead is pretty similar to his 30% of wages, varies somewhat with the private enterprise, usually these daze a bit higher as the beaurocracy continues to grow and compliance costs escalate. Quite a few of my years were spent subcontracting for the military/industrial complex. These were/are publicly traded corporations and were all unionized. The normal employee overhead was 80% back when I quit doing that sort of work back in the early 80's, doubt it's gone down. Sandbagging, feather-bedding, theft, misappropriations, shear graft.. Unbelievable. Gummit money. Hey! It's FREE! Yeah. Right. Whatever. (Beth, I don't know if you want me to link your blog due to me being rather crude. I read yours daily! ;o)
Cost plus. Those are a license to steal. Damn-near every asshat project (including the precision machining of huge cast blocks of acrylic into furniture for the boss's son's apartment) gets funds from those slick "cost plus" contracts. Yep, got lots of those stories. Some didn't involve 10's of thousands but 10's of millions. Nope, carried no proof with me and I'm not lookin' to cease sucking air. That's what the GAO is for. We send them lots of our money to check out that type of shit. There was one outfit I did some contract work long enough for me to evaluate a section that had 134 employees. 12 of them did over 3/4ths of the work. That one was the worst of the lot.
I digress. My 3 semi-loyal readers know that's just the way things are with me and the spambots, hell, they don't care.
..back to the NW Airline stuff. Let's accept GUYK's 30% and my 80% as the limits for employee overhead and take the average for the rather tightly gummit regulated airline industry. That $70,000 per year paycheck multiplied by 1.55 equals per employee cost of $108,500 per year. Even at the 30% it's $91K. Does the work product of that employee provide AT LEAST that much revenue to the employer? Hard to justify keeping a critter around if it can't break even unless it's a pet. Or unless it'll vote for you. Gee. Thanks all you union bigshots. Thanks for exporting our jobs to our little brown and yellow brothers and sisters in Central America and Asia. According to the article linked at the top, NW already has 37% of their maintainence done offshore. In case your are curious, the work done on US (and probably quite a few others using US air space) carriers require FAA certification (last time I paid decent attention).
I could rant on for pages about predatory capitalism (Jack Welch comes immediately to mind but that's only because my GE Chinee stove won't make me pies anymore! ;o), abusive unions, crooked pols of ANY stripe, but my time would be better spent finishing the text on a neat old project. Or picking my nose.
* * * * * *
Left out a couple of things yesterday about the proper treatment of sex predators and rapists. Tall tree, short rope is perfectly satisfactory as far as I'm concerned providing the case is solid. "Regret sex" doesn't count as in that fiasco with the LA basketball player even if he's a slimeball. Date "rape" waay too often is of the same ilk. Statutory, well, I kinda grew up in the 'souf lots of years ago. Weren't too many of us that made it much beyond 16 without sweet thang having even more hands than self at the drive-in! Whole 'nuther topic! Whole bunch of kinda scary memories! Roxanne, you DID know daddy had that shotgun awful handy didn't ya?!
They'll keep.
The predators and rapists are easy to segregate from the normal Christian/Judeo ethic stuff most of the time. Child rape and violent rape, most of the time pretty easy. Yeah, broad brush. Damn accurate broad brush.
Forget chemical castration. Actually forget knife castration. That's too kind. The preverts (sic) need to know that upon conviction they get to meet the
Elastrator
! If you click on that site, it's probably better if you only expand the first photo. I'll link it
here
so you won't be tempted to expand the other two. I did. Turned old cast-iron me fishbelly white. Don't look Ethyl! Yee gods!
There's always the
Burdizzo Emasculatone
. Kinder. Gentler. Probably designed for use during the Spanish Inquisition. It hurts to think about it.
During my years working with sexually abused kids, if I were offered an option on what to do with the perps it would have been a .22 caliber double-tap under the ear. Now I think I'd prefer the #3 result on the Elastrator site. THEN the double-tap after a week or so. Don't click on that. Just don't. If you're a gal and just gotta, go give your old man a short shoulder rub and a kiss, go talk with the kids, then pour yourself a few fingers of some high-test. If you're a guy, just don't. No matter how much she loves you, not even Viagra is gonna work for a while. It's that bad. Those creatures deserve removal and from my experience with some of the raped children, I consider that treatment as close to Hell as those bastards can get.
* * * * * *
Whew! It's (according to Accuweather) only 95 with a 115 heat index now. Down-right chilly. I came back in about an hour ago and ought to go back outside and start splitting some wood for winter since it's getting so cool. Male liz was laying between the front door and the fridge where there's cold, good stuff, fearless little piece of stir-fry. I need names for the pair. The book says they live for most of eight years, probably longer than I will. Frick and Frack? ..open for suggestions..
* * * * * *
Fun link of the day:
NASA computer simulation of air traffic over US
13 .1 MB Quicktime, might be a slow load. The link does NOT go directly to the download site so it's safe to click. I've over 2 million air miles, thought this was kinda neat!
* * * * * *
Saturday, August 20, 2005
useless ramblings just as promised
Been "enjoying" my 5
th
load of conjunctivitus lately. It just won't go away. 40-grit eyelid, ooze, zero usefulness = bad attitude. Doesn't help that the heat index has been between 116-120 every day this week but WTF, it's August in Florida. August sucks. Like July. September sucks as well. Bugs. Weeds. Breathing only by aqualung. The dawgs have taken to living in a cave under the canoe. Shady. Sometimes one will give me a half-hearted tail flop or two. Usually one. Jus' too damn hot for serious motion. When the 6 AM heat index is over 90, it's time to hibernate.
My clothes washing machine broke. That sucks.
My big GE (made in China 3 years ago) toaster oven broke. Well, it kinda caught on fire. I WILL NOT use the 1911 Wedgewood gas oven in the summer. No more tasty cold roast beef sammiches. No more icy cherry pies. No more frozen fudge brownies. That sucks as well.
The roaches are doin' well since I didn't replace Bronson (R.I.P.). Wound up with a couple of second season
Broad-headed Skinks
, probably through the window Abby broke out when she decided she preferred my company or jus' needed to shit on the floor. They've grown well over the last half year, appears to be one of each flavor. The male has become a knucklehead and acts a lot like Bronson, i.e., knows he's immune to being stepped-on. The female is a bit more flighty and she's GOT to learn scurrying up my leg when the foot is close is not really very acceptable. Tends to make me move in erratic patterns.
Going sleepless with eye-sandpaper sucks. Taping the afflicted eye closed and going roach hunting with the swatter (no depth vision) sucks but it gives me something to do. Can't read with the other eye as it was damaged by a bunch of coke-powered wetbacks in '86. Been thinking about fumigating but I'd have to catch the skinks and they are not too keen on being caught.
I don't like roaches. They suck.
Got the renewal for my motor vehicle insurance. Lizard company, good rates. Lately they've been advertizing extra good rates in Florida. Still drive <500/year, ticket-free for a quarter of a century, they have jacked my rate up 164%. Whyfo? That sucks.
Got my estimated real property tax bill. Up 35%. That sucks too.
FPL (Florida Plunder & Loot, a.k.a., Florida Flicker & Flash) is (always succeeds) jacking up rates 16% to go along with the 11% of around a year ago. Mucho suckness.
The loss of the atrium ventilation fan SHOULD have been a priority back in May, fell out of the loop due to being so ill for so long. Entire house is one massive mildew culture medium. REALLY SUCKS. Hardly worth trying to start salvage until October. Run the dishes through the dishwasher (which is making ominous noises, soon to die I'm sure. that sucks) set at 180 degrees using God's Curse DW detergent, and within a day, mildew on shiney surfaces. Kinda sucks as I could have prevented most of the damage by repairing the top vent and paying FPL the ~$30/month for running the dehumidifier. Too late now. I suck.
The shop studio apartment is just as clear and clean as anything can be. It's above the ground (27' is the high point), well ventilated, easily and effectively A/C'd, wired and setup the way I'd have loved to find a place oh those many years ago (even has DSL! ;o), and sits on top of a rather decent shop.
Non-sucky; local muslims tend to kill each other. (linkage not provided due to not archiving newspaper article.)
* * * * * *
Carole Moore wrote
Sexual Predators: Throwing Away the Key
Friday and is just another point of view. It ends with:
The downside to continued confinement in any setting is that the government will have to accommodate more child sex offenders. I can live with that — in fact, I'll drop a check in the mail to my local Department of Corrections to help with their upkeep. I consider it a bargain.

The upside? People like Joseph Duncan who are convicted of these crimes once will never resurface in society again. No redemption through psychiatry, rehabilitation or behaving in prison.

Expensive — yes. But the payoff — children who might cross paths with monsters like Duncan spared the terrible fate of looking into their rapists' eyes — is worth the price. I don't think I'm alone in seeing this as a fair trade.

Just ask what's left of the Groene family.
Considering the awesome recidivism, it appears these type of folk don't respond very well to therapy, term imprisonment, or chemical castration. Depo-Provera does render the psychopath impotent but doesn't do diddily for the root cause of being a psycopath. Tall tree, short rope, assembly required works splendidly with the plus that both the tree and rope can be re-used. Although not specifically directed at sex crimes, John Douglas wrote an excellent book,
"Mind Hunter"
back in '95 that gives some perspectives and, try as he might not want to include them, some opinions!
* * * * * *
Kimberly Diane Leach, 12, disappeared from her junior high school in Lake City, Florida, on February 9, 1978.
Kim was the 12 year old neighbor gal-pal of my 8 year friend and business partner's 12 year old daughter. Theodore Robert Bundy abducted, raped, murdered, then cast her dead body in an abandoned pig sty in my county.
I have a lot of kind feelings about psychos. That little gal was just your normal kid, fulla beans just like her friend. Used to have the weekend BBQ backyard feeds with the neighborhood and all was plain old right in the world. There was never another such. Foul creatures that prey on children only deserve one treatment in a civilized society. Rope-burn kindness.
* * * * * *
Explain this to me: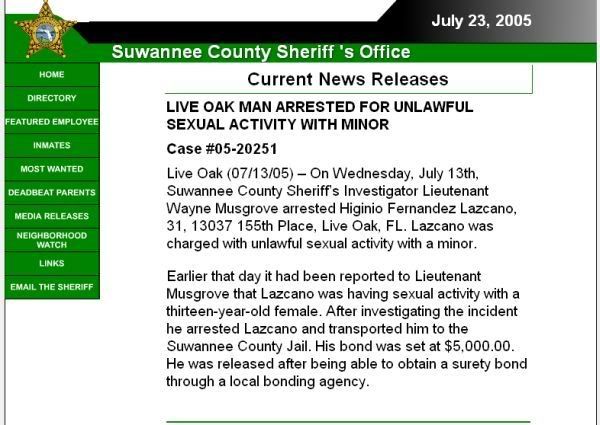 The illegal alien population around here lives rather under their own rules. Interesting, actually. Totally different life-styles with the entire population (3,500 in a rural county only ~3x semi-counted back in 2000) in violation of even being in the US. What laws? A bit of the 3
rd
world in what has never been exactly the first world. Mexican Sharia is probably the best way to deal with the influx barring major complaints. I just guess this one hit the LOSD because Juanita got tired of 31 year old Higinio banging her 13 year old daughter. Probably pregnant (as usual, go the the DCF, chock-full of round young senoritas). Anchor kids.
Scoff one law, likely to scoff others. I don't particularly care for Richard Lamm (or his ilk) but he made a speech a while back on
Multiculturalism
. You judge. A nation founded on laws that are ignored is a nation that will eventually vanish. ..just like all others in history.
* * * * * *
Dug out a photo taken last Feb with one of the liz's that now feed well. I think this is the boy:
He's all but totally tan, much bigger, and has an acceptable attitude. Got another photo taken tonight when he wouldn't 'shooo!' (lizard tastes just like chicken), might upload it later. Gal-pal lizard is under Audry III. She eats the dawg feed roaches. He's a slug and eats my housewife spiders, SHE is useful!

Tuesday, August 16, 2005
toenail clippings
..yesterday's post got me a note from someone I respect and I was informed the the party of the second part could be misconstrued as the party of the first part and I agreed (not even CLOSE to true, just poor writing on my part). As the post had other stuff that kinda just flowed in an odd sort of way, I've removed it until the muse decides to re-write it.
In the meantime, Aaron has some interesting thoughts about
St. Jennings
.
I don't think he much cared for the boy.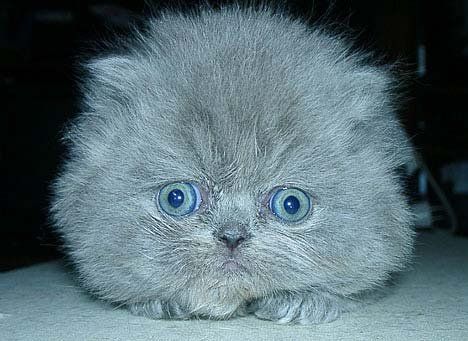 Sunday, August 14, 2005
here's a good thing...
..about a 106 degree heat index. It makes the broken earth shelter easier to tolerate. I gotta find a way to fix the exhaust fan. Remind me to simplify certain things when I build things in my next incarnation. Either that or purchase the parts from countries that have folk with pride in their product.
Happy birthday to me, happy birthday to me, I get two this year. This one is a bit different as it is the same as my number in last year's voter queue. 666. 55.5 years x 12 months! I think I'll go dig out and de-fungus the old Ouija board tonight and see what's in store for my future!
Are Half of All Americans Mentally Ill?
LOS ANGELES — A new study by Harvard University and the National Institute of Mental Health (search) claims that 46 percent of all Americans will, at some point in their lives, develop a mental disorder. [snip]
(note: the linky isn't part of the article! ;o)
Interesting. That's awful close to the percentage of registered voters that went for Kerry (asswipe lawyer) last year! Actually it's a brief but interesting article with linkage at posting time. I just love it that our wunderfl legislators (asswipe lawyers) in this nanny state have mandated insurance companies (collection of asswipe lawyers) including everything from aroma therapy to substance abuse rehab into any policy one acquires. Not gonna have kids? Single? Sterile? Soo sorry, asswipe lawyers have mandated YOU gotta buy that coverage as well. Doesn't help things when folk like (asswipe lawyer) John Edwards "channels" in court with jurors carefully selected to be as dumb and as superstious as a bunch of cannibals to make his many megabucks from supposed baby malpractice. Cannibals eat their own and don't think anything is wrong with it (unless they are the daily special).
I actually DO know a few lawyers that are not pond scum. Two gals and three guys. Well, one of the guys has been dead a bunch of years and in truth, he was "good" in the way an airstrike is good when you're pinned-down in an impossible situation. Couldn't prevent the massive mortar fire that had caused so much damage but left some time and space for the bodies to be evac'd!
While I'm still on nat'l 'drug the peeple' thought, a few years ago I was kinda perturbed with the avalanche of kids on psycho drugs. I had a sit-down with an old friend who'd been a child behavior therapist in the skool system for close to half my present age and asked him the percentage that were being drugged vs the percentage that would profit from drug treatment. At that time approximately 20% of the kids were on
Ritalin
and in his professional judgement only between 1-2% actually needed it. If a skool teacher or a "harried" parent wanted the little monster zoned out, there were several local "doctors" that would write script without the bother of an evaluation.
I happen to have known one of those "script writing" "doctors" for over a quarter of a century. Since that piece of dung works exclusively for the state these days, he's safe from personal malpractice. Shrink of course. Bragged ceaselessly about his 4,500 active patients. No mention that most of his collection were just his name on the payment sheets of a bunch of prisons and drunk-tanks. Pass out the pills and bill the state for "treatment". Got his alledged certificate in India. Eats cows. Wonder what he calls his "religion"? I rather doubt he's Baptist! BTW, a married couple from his country set up shop as pediatricians. Both were muslim, both are dead. Murder/suicide. ...must be one of those "honor" thingies.
There is proper use of shrinkage and psyc pharmaceuticals , none need mandating by gummit or bureaucratic empire-builders. We hire docs for health reasons. Lawyers are the herpes blisters on society. Shakespeare , Twain, Bierce, and Heinlein amongst others were right. Heinlein expressed it the best way back in 1961. I'll dig it up.
* * * * * *
Can this possibly be true?
Nasal spray clears Alzheimer's brain plaques
There are 400,000 folk in Florida diagnosed with such. If you believe in the human soul and accept it just occupies the body, the thought of having everything reduced to nothing while still alive has got to be a horror story. If you've ever been seriously afflicted with a disease that removed a big chunk of your cognizance and remembered that nightmare, the thought of spending any time at all with everything just in the "here and now" with no chance of connecting the last 5 minutes would be KILL ME PLEASE!
* * * * * *
Dawgs have souls.
* * * * * *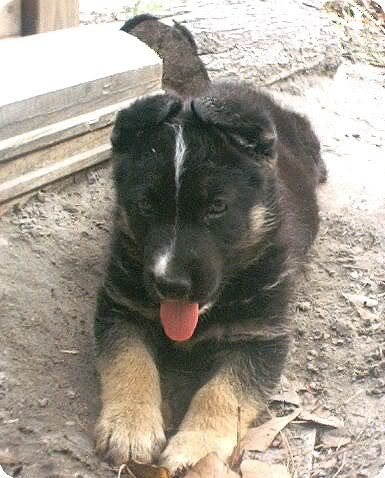 Chad was about one week before his GSD ears did the permanent vertical (yeah, they lay back but you don't wanna see that too often! ;o) and just a couple of months before he got et by a bear. Shit happens.
Thursday, August 11, 2005
Oughta kept feeding the ticks
Planned Parenthood videos
Oh, sweet baby jebus. If you only have dialup, download the first one. 40 mb. This piece of trash is the main reason I occasionally view the Saturday morning kids' shows. Sweet baby jebus is crying. Captain Planet. The kids' news shows. Nye, the New York Times Guy. teevee is wunderfl, got a rap ad hawking "fly" back-packs wid deese pockets fo de fone! Flash fly rap stuff! Catchy drum beats. I have tried many times to understand the ebonic message. The kids must get it. When the LSM
finally
gets done planting Saint Jennings the Asswipe, I'll look again. Goddamn, as sorry a reporter/journalist as he was, the 44 day death by having his lungs et by cancer wasn't deserved. Many folk died his way during my time working at the VA hospitals. Brutal, miserable way to die.
I've had two old friends pass with the lung cancer, one went really quick. The other was my grandfather's fishing companion. He outlived grandad by a few years, was a hell of a lot older than him, finestkind type of man. He'd known me from birth and we were still the best of friends when we last met in 1972. He had very few days left as the treatment (very high dose whole-body radiation) for the cancer had pretty-much killed him. 92 years old and his mind was just as gentle and knowing as it was when he was first known by self. My granny was the 'kid' that evening the last time I saw Mr. White. She left us "gentlemen" to sit in the parlor and talk of old times. Me, being only 22, had not a lot of old times that should occupy his time. There was a big bag of nasty 'nam shit that was corroding me, was fully involved with Hale, Caltech, and getting paid by Carnegie, the important stuff for me was Harry's discourse of the wonderful life he and Vivian (might be wrong with her name) had had when they were youngsters in Venezuela. No, he didn't repeat old stories. Harry died with all his mental parts totally clear.
Oh lordy do I have decades of stories including Harry, my grandad, and, of course, my dad! Finestkind times for a young mugwump!
Harry knew he was going to die, probably within the next week. The cancer had pretty-much eaten him up and the radiation treatments at the VA had pretty-much char-broiled him. Granny made him a fresh from the garden salad for dinner that evening and I shared with them. Poor Harry was being humorous and totally correct. He was cooked meat. We smelled it. Roasted, large smell that I've whiffed too many times since. The smell of death.
As an aside, granny was close to being the worst cook ever. I was co-op'ed many times when she went to tend the Montgomery family holdings. My sorry cooking at the age of 7 was better, and since grandad was old merchant marine, I was finestkind! God only knows what they ate during his years at sea! Granny grew great fruit and veges and if it wasn't cooked, it was good stuff. Her mother, Mama Mamie (whose bed I own) had eleven children and probably taught granny how to ruin otherwise decent food!
Oh lordy, I gotta do better than THAT! Granny set a fine table and for most all the time I've memory of, her and grandad's place was where the GATHERING happened twice each year. Yeah, I'll try to recall and relate many, many years of the best place in the world to be. Long before Ctrl-Alt-Delete became a way of fixing life (lawyers, un-marriage, gummit, etc.) and my particular life was on it's way to 2,000,000 air miles fixing other peoples fubars, her place was where to get recharged. Always lots of good stuff that needed fixin' after grandad died, she needed to go fishing sometimes, and there was always the fancy teas and collectibles I thought she needed! That, and I always let myself in for her critique of what I was doing wrong. BTW, she was always 100% right. Always. Every. bit. even. now. ...and she's been dead for over six years.
It's been a half-century since cooking for Authur Fitzgerald. It's also been a big bag of years since I've cooked for anyone. Nina, my last best friend and former wife, happily munched through my interpretation of a BC restaurateur's idea of a roast. ...with lots of goodies. ...she needed good food. Three daze on a Greyhound? Good god, I'd probably be trying to eat my shoes if I had to do that again. The next time I'll get on a bus will be in a pine box if the body is found and someone wants it in a different place.
That was years ago and a delightful evening. We'll be friends forever as long as there is lots of miles between!
* * * * * *
A bit of old fun:
Impure Mathematics
Richard A. Gibbs
The Best Of The Journal of Irreproducible Results, 1983
Once upon a time (1/t), pretty little Polly Nomial was strolling across a field of vectors, when she came to the edge of a singularly large matrix. Now Polly was convergent, and her mother had made it an absolute condition that she must never enter such an array without her brackets on. Polly, however, had changed her variables that morning, and, feeling particularly badly behaved, she ignored this condition on the grounds that it was insufficient, and made her way in amongst the complex elements.
Rows and columns enveloped her on all sides. Tangents approached her surface. She became tensor and tensor. Quite suddenly, three branches of a hyperbola touched her at a single point. She oscillated violently, lost all sense of directrix, and went completely divergent. As she reached a turning point, she tripped over a square root which was protruding from the erf, and plunged headlong down a steep gradient. When she was differentiated once more, she found herself, apparently alone, in a non-euclidean space.
She was being watched however. That smooth operator, Curly Pi, was lurking inner product. As his eyes devoured her curvilinear coordinates, a singular expression crossed his face. Was she still convergent, he wondered. He decided to integrate improperly at once.
Hearing a vulgar function behind her, Polly turned round, and saw Curly Pi approaching with his power series extrapolated. She could see at once, by his degenerate conic and his dissipative terms, that he was bent on no good.
"Eureka" she gasped.
"Ho, ho!" he said. "What a symmetric little polynomial you are. I can see that you are absolutely bubbling over with secs".
"Sir", she said, "keep away from me. I haven't got my brackets on.
"Calm yourself my dear" said our suave operator, "your fears are purely imaginary".
"i, i" she thought. "Perhaps he's homogeneous then?".
"What order are you?" the brute demanded.
"Seventeen", replied Polly.
Curly leered. "I suppose you've never been operated on yet?" he said.
"Of course not" Polly cried indignantly. "I'm absolutely convergent".
"Come, cone," said Curly. "Lets off to a decimal place I know, and I'll take you to the limit".
"Never" gasped Polly.
His patience was gone. Coshing her over the coefficient with a log until she was powerless, Curly removed her discontinuities. He stared at her significant places and began to smooth her points of inflexion. Poor Polly. All was lost. She felt his hand bonding to her asymptotic limit. Her convergence would be gone for ever.
There was no mercy, for Curly was a heavyside operator. He integrated by parts. He integrated by partial fractions. The complex beast even went all the way round, and did a contour integration. What an indignity! Curly went on operating until he was completely and absolutely orthogonal.
When Polly got hone that evening, her mother noticed that she had been truncated in several places. But it was too late to differentiate now --- the seeds having been sown. As the months went by, Polly increased monotonically. Finally, she generated a small, but pathological, function, which left surds all over the place, until she was driven to distraction.
The moral of this sad story is this: It you want to keep your expressions convergent, never allow them a single degree of freedom.
* * * * * *
Got to end this with linkage to what Dr. Sanity posted:
A Motive For Berger's Bizarre Behavior?
She's got it pegged. Read it.
* * * * * *
"The prestige of government has undoubtedly been lowered considerably by the prohibition law. For nothing is more destructive of respect for the government and the law of the land than passing laws which cannot be enforced. It is an open secret that the dangerous increase of crime in this country is closely connected with this."
My First Impression of the U.S.A. (1921) - Albert Einstein
Wednesday, August 10, 2005
Dawg(less) days
It's been a bit since the last post. That one ended with "I'm going back to bed." Since there was no water supply and entropy needed to be pulled back a few notches, didn't. Slathered old diseased self up with 52.25% DEET and went to inspect the 200+ yards of underground plumbing. Pump failure indicated overload, seemed the best place to start even if the old bugger used to be able to run open (25 years ago). There isn't anyway to inspect the spaghetti of plumbing under the foundation of the earth shelter; ruptures there can only be derived.
It took a while mostly because the yardage was very overgrown. The normal, non-diseased years (most all of them) had the areas surveyed, mowed clear, and not infested with blood-sucking spiders.
I came back in after the survey which required a lot more effort than was available out of the old bod knowing what had caused the failures. Four of them. All tied to one initiator. I've got to give a touch of grace to a pooch that did the wrong thing 2 months ago for saving the cascade of FUBAR from
really
getting even more out of hand. Connections. Did you ever watch the James Burke series "Connections"? I loved that series, probably the best thing PBS ever presented.
This
cascade of connections would bore one to distraction. It started with fire ants in 1981.
Some bad news. The innoculated trio of pups all died at once just as the first one did. No autopsy. There's a chance the tick-born disease that won't leave my eye (and joints, much more) might have been responsible. I was very careful when handling them by washing in a strong bleach solution and only handled when required to de-parasite them. Sevin works quite well for pups as they seem to have no adverse reaction I've noticed over the last 20+ years but this trio were mostly free. They had one each, easily removed. Sevin tucks me into hacking my lungs out (I wear a filter mask) but the pups over the years drop the bloodsuckers and go on to bigger and better garden hose consumption!
* * * * * *
Lots of pure-de-old-crap from the islamofashits and their reps (pick a congressturd) in the US over the last weeks. I've rather enjoyed a couple of parodies of John Boulton. One is from the ever-so-good James Lileks and the other from "Nuke the Moon" Frank J. Of course Cox and Forkum have proper graphics to give one an additional smile!
Live From New York: It's Ambassador John Bolton
Recess Appointment
This one might require scrolling as it might not be a permalink.
Cox & Forkum
I have great hopes for John Boulton. If half the nasty-ass the libs are spreading about him are true, I'll be disappointed. I'd prefer him to be far worse. The UN needs to be moved to Mugabe's domain. Have you ever taken a look at who runs what in that 38 story tower of corruption? Want a link to the content of that collection of shit? Why in Hell is it even allowed in our country?
* * * * * *
This envelope appeared in my mail last week: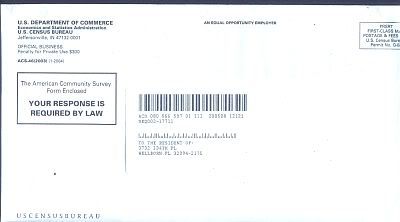 "REQUIRED BY LAW"? It's addressed "to the resident of". Nobody here by that name. Damnfool thing has 24 pages and here's a random sample page: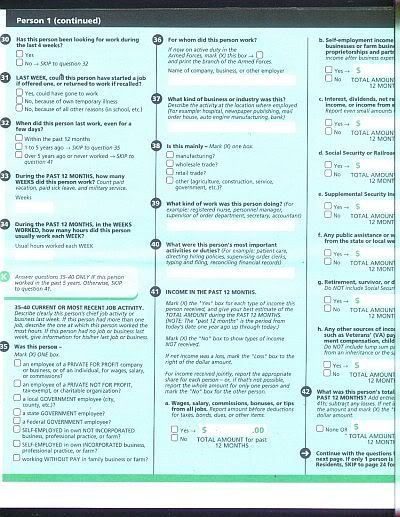 Lots of really intrusive questions, some of which I'd feel funny about giving any agency unless I was applying for a Q clearance. A bunch of them would require a fair amount of research into a year's worth of bookeeping and some I'd plead the 5
th
'just in case'. BTW, I learned years and years ago
NEVER
submit a form of any kind to the gummit without having a shyster of the right flavor pass his magic dick over it and
always
keep a copy. This "fun" docu is, of course, totally impossible to copy on any standard machine w/o 2 shots per page (10.25" x 10.75"). 48 sloppy copies or go find a specialty machine.
I enjoyed the teeny fine print on the right bottom of the last page. Had to set the scanner up for 300 dpi just to make it legible.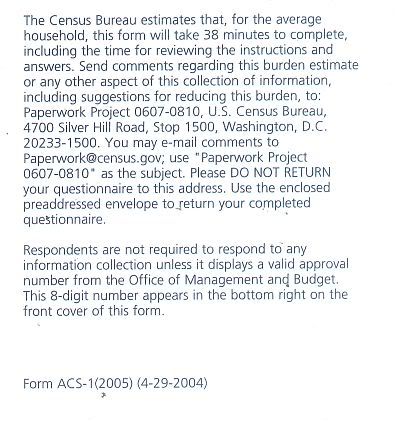 38 minutes eh? More like 4 hours even if I was so inclined to fill out the thing. It's just too damn bad "the resident of" has some sort of 8-digit number on the front cover and is probably gonna go to jail. The addy as assigned (for the third time) by our 911 system lives over a mile away.
For more fun, when the alledged 911 "system" was being implemented, everyone's RFD's had to become street names and it was a royal mess. My first assigned addy was something around 5 miles away in a different county and it took a while to get that corrected. It was corrected so well that the second assigned addy was something close to 20 miles west of the actual location. The third, well, after the continued SNAFU with UPS, FedEx, and the USPS (the 20 mile away addy had a different zip code), I gave up. UPS and FedEx both have maps and the local PO, hell, they know my hat size, the names of my dawgs, and probably what I had for supper last night! Small towns, gotta love 'em! Once, an old buddy from Cali sent me a note addressed to "Mad Scientist, Wellborn Florida". I got it of course. There have been some experiments down here in the holler that have augmented the ozone rather heavily. High electrical fields and bodacious radiation levels do things like that. Only suitably qualified and protected folk are allowed within a hundred yards when those were being run and I'm a wuss on rad doses. Got my share many, many years ago, don't need no 'mo.
* * * * * *
Lots of good topics saved up during the last few weeks, ought to rattle the keys about a couple of them. Local idiocy is rising to a true high and shows no sign of relenting; not of interest except to some of us old-timers. Might be time to move the flag again. Peggy Noonan has written
Almost Heaven - A visit to West Virginia
that expresses a lot from a different perspective and a very different location. It's a good read.
Got some serious thoughts about the shuttle.
This
post and the links on that page are worthy reads as well. Made me want to cook some spotted owl for supper.
More about a certain med imaging technique that needs a comment or 10 with some linky goodness but it'll need a bunch of background to be properly coherent. Don't know if it's worth my time, just irritated with ignorant button pushers and know-nothing peckerheads.
* * * * * *
For you older 'space nuts',
Memories of the Space Age
will bring back a bunch and the links at the bottom are excellent.
Dreams of Space
is Lileks-like and I have enjoyed myself through about half of it so far.
Space Age Pop Music
is a lot of fun with downloadables that brought me back a bunch of decades! There's some really odd stuff on that site, enjoy!
* * * * * *
Bulwer-Lytton Fiction Contest
The dragon cast his wet, rheumy eyes, heavy-lidded with misery, over his kingdom - a malodorous, rot-ridden swamp, with moss cloaking brooding, gloomy cypresses, tree trunks like decayed teeth rising from stagnant ponds, creatures with mildewed fur and scales whom the meanest roadside zoo would have rejected - and hoped the antidepressants would kick in soon.